Furnished studio
(Upper East Side), 300 sqft, rental $3,165 /month
Address: East 60Th Street, New York (10022), near subway station: 59 Street/Lexington Avenue (4,5,6)
Upper East Side
Floor area 300 sqf -
4th floor no elevator

59 Street/Lexington Avenue




Available now
# 12011275
No agency fees until 01-Jan-70
Calculate your stay price
min 1 month max 12 months

This studio is located in Sutton Place East 60th street between 1st and 2nd Avenue, in Manhattan.

About 300 square feet, this studio apartment is on the fourth floor in a walk up building.

You enter the space through the open kitchen fully equipped with a refrigerator and freezer, a stove, an oven and microwave, and all the cookware necessary. There is also a dining table with 2 chairs.

Next is the living area which has a two windows, wood floors and is furnished with a queen size bed and two single bed, an armchair, a dresser, a TV and a coffee table.

The bathroom has a shower in tub, a sink with a mirror and a toilet.

The monthly price does NOT includes utilities. Utilities are $120/month (deducted from deposit) and internet is $105/month (optional).

Transportation : The 4, 6 and N, Q, R trains are 2 blocks away.

Neighborhood : You'll find everything in this area : restaurants, boutiques, grocery stores, entertainment, etc.

Sutton Place is a street and surrounding neighborhood in the borough of Manhattan in New York City, New York.

Sutton Place itself – one of the most affluent streets in the city – is the wide north/south avenue that runs only two blocks, from 57th Street to 59th Street, along the East River and south of the Queensboro Bridge. The stretch that continues below 57th Street down to 53rd Street is called Sutton Place South, while north of 59th Street, the street continues as York Avenue.

The greater Sutton Place neighborhood is situated between the neighborhoods of Turtle Bay on the south and the Yorkville on the north, is bounded on the east by the East River, on the west by Second Avenue, and runs from 53rd Street to 59th Street. Sutton Square is the cul-de-sac at the end of East 58th Street, just east of Sutton Place; and Riverview Terrace is a row of townhouses on a short private driveway that runs north from Sutton Square.Read the following
Interactive plan
Click on one room in order to see the pictures.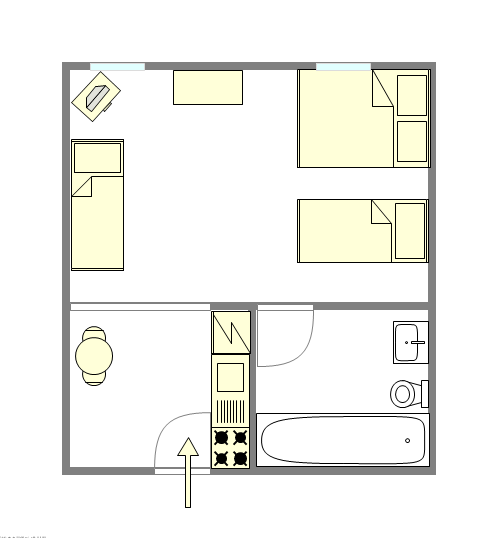 Building
Housing services
No smoking
Pets not accepted
Air conditioning
TV
Doorman - Laundromat in the building - Concierge
This studio is located in Sutton Place East 60th street between 1st and 2nd Avenue, in Manhattan.

About 300 square feet, this studio apartment is on the fourth floor in a walk up building.

You enter the space through the open kitchen fully equipped with a refrigerator and freezer, a stove, an oven and microwave, and all the cookware necessary. There is also a dining table with 2 chairs.

Next is the living area which has a two windows, wood floors and is furnished with a queen size bed and two single bed, an armchair, a dresser, a TV and a coffee table.

The bathroom has a shower in tub, a sink with a mirror and a toilet.

The monthly price does NOT includes utilities. Utilities are $120/month (deducted from deposit) and internet is $105/month (optional).

Transportation : The 4, 6 and N, Q, R trains are 2 blocks away.

Neighborhood : You'll find everything in this area : restaurants, boutiques, grocery stores, entertainment, etc.

Sutton Place is a street and surrounding neighborhood in the borough of Manhattan in New York City, New York.

Sutton Place itself – one of the most affluent streets in the city – is the wide north/south avenue that runs only two blocks, from 57th Street to 59th Street, along the East River and south of the Queensboro Bridge. The stretch that continues below 57th Street down to 53rd Street is called Sutton Place South, while north of 59th Street, the street continues as York Avenue.

The greater Sutton Place neighborhood is situated between the neighborhoods of Turtle Bay on the south and the Yorkville on the north, is bounded on the east by the East River, on the west by Second Avenue, and runs from 53rd Street to 59th Street. Sutton Square is the cul-de-sac at the end of East 58th Street, just east of Sutton Place; and Riverview Terrace is a row of townhouses on a short private driveway that runs north from Sutton Square.
Neighbourhood

Station :

59 Street/Lexington Avenue



Nearby services
Supermarket - pharmacy - Restaurant
Availability
Price
| | |
| --- | --- |
| price / month | from 1 to 12 months |
| Available now | $3,165 |
Rental period
min 1 month max 12 months