3 bedroom furnished apartment with elevator and washing machine
(Harlem), 1550 sqft, rental $7,500 /month
Address: Fifth Avenue, New York (10035), near subway station: 116 Street/Lexington Avenue (6)
Harlem
Floor area 1550 sqf -
25th floor elevator
(1380.0 sqf certified)

116 Street/Lexington Avenue


Available now
# 48416684
Calculate your stay price
min 1 month

This is a very bright fully furnished 3BR/ 2BA apartment located on the 25th floor of a modern high-rise building with elevator, swimming pool, doorman and gym at Harlem.

The residence features a modern open kitchen equipped with custom cabinetry, including a stove, an oven, a microwave oven and a refrigerator with freezing compartment.
The living room offers two sofas, a TV, an AC, a dinning table with four chairs.
Each of bedroom with hardwood floors and a closet provides a queen size bed and a dresser, the second bedroom offers a TV.
The apartment is equipped with a washer and a dryer.

Transportation:

2, 3 trains run at 116St/ Lexington Ave.

Neighborhood ( copy from WIKIPEDIA):

East Harlem, also colloquially known as El Barrio and previously as Spanish Harlem, is a neighborhood of Upper Manhattan, New York City roughly encompassing the area north of the Upper East Side, and East 96th Street and east of Fifth Avenue to the East and Harlem Rivers. It lies within Manhattan Community District 11. Despite its name, it is generally not considered to be a part of Harlem.

East Harlem is notable for its contributions to Salsa music and Hip-Hop.Read the following
Interactive plan
Click on one room in order to see the pictures.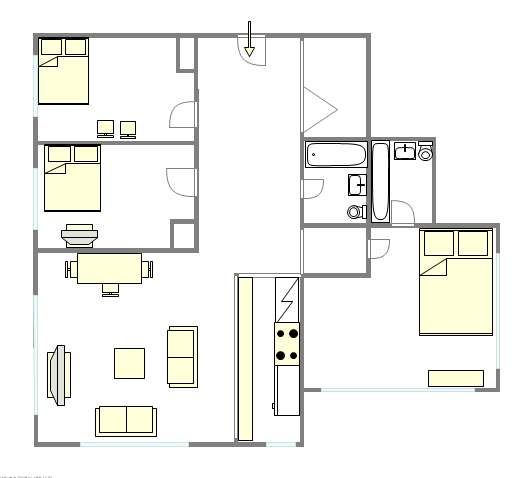 Building
Housing services
Elevator
No smoking
Pets not accepted
Swimming pool
Air conditioning
Cable
Washing machine
Dryer
Dishwasher
TV
Linen
Doorman - Laundromat in the building
This is a very bright fully furnished 3BR/ 2BA apartment located on the 25th floor of a modern high-rise building with elevator, swimming pool, doorman and gym at Harlem.

The residence features a modern open kitchen equipped with custom cabinetry, including a stove, an oven, a microwave oven and a refrigerator with freezing compartment.
The living room offers two sofas, a TV, an AC, a dinning table with four chairs.
Each of bedroom with hardwood floors and a closet provides a queen size bed and a dresser, the second bedroom offers a TV.
The apartment is equipped with a washer and a dryer.

Transportation:

2, 3 trains run at 116St/ Lexington Ave.

Neighborhood ( copy from WIKIPEDIA):

East Harlem, also colloquially known as El Barrio and previously as Spanish Harlem, is a neighborhood of Upper Manhattan, New York City roughly encompassing the area north of the Upper East Side, and East 96th Street and east of Fifth Avenue to the East and Harlem Rivers. It lies within Manhattan Community District 11. Despite its name, it is generally not considered to be a part of Harlem.

East Harlem is notable for its contributions to Salsa music and Hip-Hop.

Neighbourhood

Station :

116 Street/Lexington Avenue

Nearby services
Supermarket - Park - pharmacy - Restaurant
Availability
Price
| | |
| --- | --- |
| price / month | from 1 month |
| Available now | $7,500 |