2 bedroom furnished apartment with wIFI Only, terrace and barbecue
(Carroll Gardens), 1390 sqft, rental $11,000 /month
Address: Smith Street, Brooklyn (11231), near subway station: Carroll Street/Smith Street (F,G)
Carroll Gardens
Floor area 1390 sqf -
1st Floor no elevator
(1390.0 sqf certified)

Carroll Street/Smith Street



Available now
# 4B216902
Calculate your stay price
min 1 month

This is a fully furnished 4 BR/2BA duplex apartment located in the Carroll Gardens. Please note that the two bedrooms on the second floor do not have windows.
This apartment offers 1 living room and one family room. The living room includes a dining table which gives an access to the open kitchen. The family room on the second floor offers a TV, one armchair and a sofa, a closet and a pool table in the middle.

The kitchen includes a freezer and a refrigerator, a microwave and an oven, a coffee maker, a sink and a dishwasher.

Moreover, there are 4 bedrooms. The first bedroom on the first floor includes a double bed with a bedside table and closets. The second bedroom has a sofa, a TV, a single bed and gives a direct access to a large terrass which features with a chair and a barbecue.

On the second floor, the third bedroom has a double bed and a crib, a bedside table and closets. The fourth bedroom includes a double bed, a bedside table and a computer.
These two rooms, on the second floor, give a direct access to the second bathroom with a tub, a sink and a toilet with a wall closet.
There is also a bathroom located near to the entrance of the apartment.

Transportation:
F and G trains run at Carroll St/ smith street under 500 feet
B, D, N, R, Q, 2, 3, 4, 5 trains run at Pacific St 1. 0 mile

Neighborhood (copy from WIKIPEDIA):

Carroll Gardens is a neighborhood in the New York City borough of Brooklyn. Taking up around 40 city blocks, it is bounded by Degraw and Warren Streets (north), Hoyt and Smith Streets (east), Ninth Street or the Gowanus Expressway (south) and the Brooklyn Queens (BQE) and Gowanus Expressways (west).Read the following
Interactive plan
Click on one room in order to see the pictures.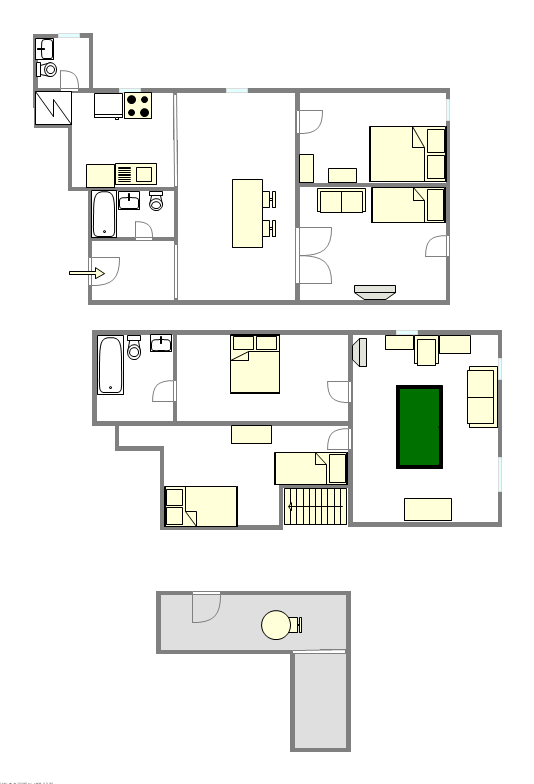 Building
Housing services
No smoking
Pets not accepted
Air conditioning
Cable
Dishwasher
TV
Linen - WIFI Only
Laundromat in the building
This is a fully furnished 4 BR/2BA duplex apartment located in the Carroll Gardens. Please note that the two bedrooms on the second floor do not have windows.
This apartment offers 1 living room and one family room. The living room includes a dining table which gives an access to the open kitchen. The family room on the second floor offers a TV, one armchair and a sofa, a closet and a pool table in the middle.

The kitchen includes a freezer and a refrigerator, a microwave and an oven, a coffee maker, a sink and a dishwasher.

Moreover, there are 4 bedrooms. The first bedroom on the first floor includes a double bed with a bedside table and closets. The second bedroom has a sofa, a TV, a single bed and gives a direct access to a large terrass which features with a chair and a barbecue.

On the second floor, the third bedroom has a double bed and a crib, a bedside table and closets. The fourth bedroom includes a double bed, a bedside table and a computer.
These two rooms, on the second floor, give a direct access to the second bathroom with a tub, a sink and a toilet with a wall closet.
There is also a bathroom located near to the entrance of the apartment.

Transportation:
F and G trains run at Carroll St/ smith street under 500 feet
B, D, N, R, Q, 2, 3, 4, 5 trains run at Pacific St 1. 0 mile

Neighborhood (copy from WIKIPEDIA):

Carroll Gardens is a neighborhood in the New York City borough of Brooklyn. Taking up around 40 city blocks, it is bounded by Degraw and Warren Streets (north), Hoyt and Smith Streets (east), Ninth Street or the Gowanus Expressway (south) and the Brooklyn Queens (BQE) and Gowanus Expressways (west).

Neighbourhood

Station :

Carroll Street/Smith Street


Nearby services
Supermarket - Restaurant
Availability
Price
| | |
| --- | --- |
| price / month | from 1 month |
| Available now | $11,000 |