Furnished studio with wIFI Only
(Chelsea), 300 sqft, rental $2,400 /month
Address: West 22 Nd Street, New York (10011), near subway station: 23 Street/7 Avenue (1)
Chelsea
Floor area 300 sqf -
3rd floor no elevator
(300.0 sqf certified)

23 Street/7 Avenue


Available from 01-Jan-22
# 15116916

$2,400

/monthinstead of

$3,500

/month
Calculate your stay price
min 1 month

This is a fully furnished studio located in Chelsea.

The apartment features an open kitchen equipped with a stove, an oven, a microwave, a coffee maker, a refrigerator and a freezer.
The living room offers a dining table, a sofa, a TV, a double bed with its bedside table and a desk with its chair.
The bathroom has a sink, a toilet and a tub.

Transportation:
C and E trains run at 23rd St (under 500 feet)
1 train runs at 23rd St (0. 2 miles)
PATH train runs at 23rd Street Station (0. 3 miles)
F and M trains run at 23rd St (0. 3 miles)
A, C, E and L trains run at 14th St-8th Av (0. 4 miles)

Neighborhood (copy from WIKIPEDIA):
Chelsea is a neighborhood on the West Side of the borough of Manhattan in New York City. The district's boundaries are roughly 14th Street to the south and the Hudson River and West Street to the west, with the northern boundary variously described as 30th Street or 34th Street, and the eastern boundary as either Sixth Avenue or Fifth Avenue. To the north of Chelsea is the neighborhood of Hell's Kitchen, also known as "Clinton", as well as the Hudson Yards; to the northeast is the Garment District; to the east are NoMad and the Flatiron District; to the southwest is the Meatpacking District; and to the southeast is Greenwich Village and the West Village.Read the following
Interactive plan
Click on one room in order to see the pictures.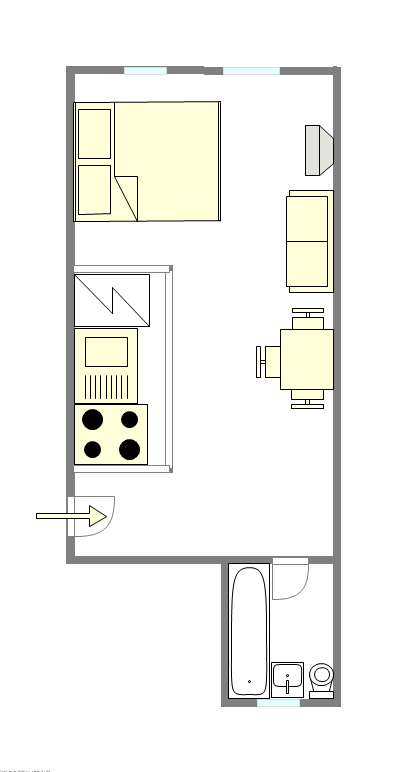 Building
Housing services
No smoking
Pets not accepted
Air conditioning
Internet included
Cable
TV
Linen - WIFI Only
Laundromat in the building
This is a fully furnished studio located in Chelsea.

The apartment features an open kitchen equipped with a stove, an oven, a microwave, a coffee maker, a refrigerator and a freezer.
The living room offers a dining table, a sofa, a TV, a double bed with its bedside table and a desk with its chair.
The bathroom has a sink, a toilet and a tub.

Transportation:
C and E trains run at 23rd St (under 500 feet)
1 train runs at 23rd St (0. 2 miles)
PATH train runs at 23rd Street Station (0. 3 miles)
F and M trains run at 23rd St (0. 3 miles)
A, C, E and L trains run at 14th St-8th Av (0. 4 miles)

Neighborhood (copy from WIKIPEDIA):
Chelsea is a neighborhood on the West Side of the borough of Manhattan in New York City. The district's boundaries are roughly 14th Street to the south and the Hudson River and West Street to the west, with the northern boundary variously described as 30th Street or 34th Street, and the eastern boundary as either Sixth Avenue or Fifth Avenue. To the north of Chelsea is the neighborhood of Hell's Kitchen, also known as "Clinton", as well as the Hudson Yards; to the northeast is the Garment District; to the east are NoMad and the Flatiron District; to the southwest is the Meatpacking District; and to the southeast is Greenwich Village and the West Village.



Neighbourhood

Station :

23 Street/7 Avenue

Nearby services
Internet cafe - Supermarket - pharmacy - Restaurant
Availability
Price
| | |
| --- | --- |
| price / month | from 1 month |
| Available from 01-Jan-22 | $2,400 |