Furnished studio with wIFI Only
(Bronx), 383 sqft, rental $1,725 /month
Address: East Mount Eden Parkway, Bronx (10457), near subway station: 170 Street/Grand Concourse (B,D)
Bronx
Floor area 383 sqf -
1st Floor no elevator
(383.0 sqf certified)

170 Street/Grand Concourse



Available from 01-Jan-22
# 10916997
No agency fees until 01-Jan-70
Calculate your stay price
min 1 month

This is a fully furnished studio located in Bronx.

You enter the apartment into the living room that offers a double size bed, a single size sofabed, a coffee table, a dining table with chairs and a TV.
The kitchen features a stove, an oven, a sink, a microwave, a toaster and a coffee maker.
The bathroom is equipped with a shower, a sink and a toilet.

Transportation:

B and D trains run at 174-175 Sts (about 25~30 minutes to Midtown).
4 train runs at Mt Eden Avenue/Jerome Ave.

Neighborhood (copy from wikipedia):

The Bronx is the northernmost of the five boroughs of New York City, in the U. S. state of New York. North of Manhattan and Queens, and south of Westchester County.
The Bronx is divided by the Bronx River into a hillier section in the west, closer to Manhattan, and a flatter eastern section, closer to Long Island. East and west street addresses are divided by Jerome Avenue—the continuation of Manhattan's Fifth Avenue.
Although the Bronx is the third most densely populated county in the U. S. , about a quarter of its area is open space, Van Cortlandt Park, Pelham Bay Park, the New York Botanical Garden and the Bronx Zoo in the borough's north and center, on land deliberately reserved in the late 19th century as urban development progressed northwards and eastwards from Manhattan with the building of roads, bridges and railways.Read the following
Interactive plan
Click on one room in order to see the pictures.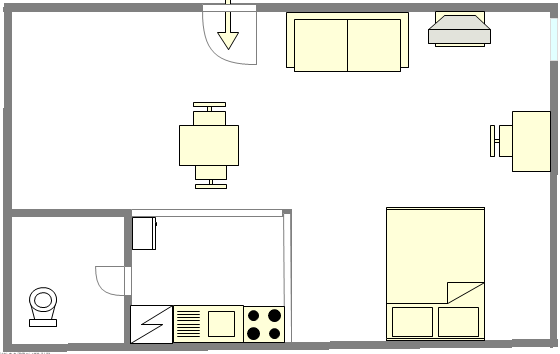 Building
Housing services
No smoking
Pets not accepted
Air conditioning
TV
Linen - WIFI Only
This is a fully furnished studio located in Bronx.

You enter the apartment into the living room that offers a double size bed, a single size sofabed, a coffee table, a dining table with chairs and a TV.
The kitchen features a stove, an oven, a sink, a microwave, a toaster and a coffee maker.
The bathroom is equipped with a shower, a sink and a toilet.

Transportation:

B and D trains run at 174-175 Sts (about 25~30 minutes to Midtown).
4 train runs at Mt Eden Avenue/Jerome Ave.

Neighborhood (copy from wikipedia):

The Bronx is the northernmost of the five boroughs of New York City, in the U. S. state of New York. North of Manhattan and Queens, and south of Westchester County.
The Bronx is divided by the Bronx River into a hillier section in the west, closer to Manhattan, and a flatter eastern section, closer to Long Island. East and west street addresses are divided by Jerome Avenue—the continuation of Manhattan's Fifth Avenue.
Although the Bronx is the third most densely populated county in the U. S. , about a quarter of its area is open space, Van Cortlandt Park, Pelham Bay Park, the New York Botanical Garden and the Bronx Zoo in the borough's north and center, on land deliberately reserved in the late 19th century as urban development progressed northwards and eastwards from Manhattan with the building of roads, bridges and railways.


Neighbourhood

Station :

170 Street/Grand Concourse


Nearby services
Supermarket - Park - pharmacy
Availability
Price
| | |
| --- | --- |
| price / month | from 1 month |
| Available from 01-Jan-22 | $1,725 |