1 bedroom furnished apartment with wIFI Only
(Greenwich Village), 420 sqft, rental $3,800 /month
Address: Sullivan Street, New York (10012), near subway station: West 4 Street/Washington Square/Avenue of Americas (A,B,C,D,E,F,M)
Greenwich Village
Floor area 420 sqf -
2nd floor no elevator

West 4 Street/Washington Square/Avenue of Americas








Available now
# 25417090

$3,800

/monthinstead of

$4,300

/month
Calculate your stay price
min 9 months

This is a fully furnished 1BR/1BA apartment located in Greenwich Village.

You enter the apartment into a living room which gives you a sofa, a TV with cable and an AC.

The kitchen that is equipped with a stove, an oven, aa toaster, a microwave oven and a refrigerator with freezing compartment.

The bedroom with hardwood floors provides a double size bed, an AC, a closet, a desk with a chair.

Transportation:

D train runs at West 4 Street.
R train runs at 8St/ NYU.

Neighborhood (copy from WIKIPEDIA):

Greenwich Village is a neighborhood on the west side of Lower Manhattan, New York City. Greenwich Village has been known as an artists' haven, the Bohemian capital, the cradle of the modern LGBT movement, and the East Coast birthplace of both the Beat and '60s counterculture movements. Groenwijck, one of the Dutch names for the village (meaning "Green District"), was Anglicized to Greenwich. New York University (NYU) is located in Greenwich Village.Read the following
Apartment blueprint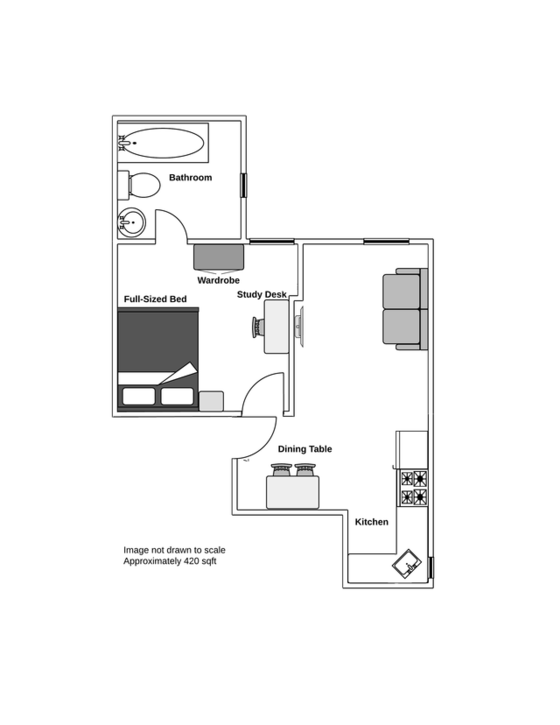 Housing services
No smoking
Pets not accepted
Air conditioning
Internet included
Cable
TV
Linen - WIFI Only
Laundromat in the building
This is a fully furnished 1BR/1BA apartment located in Greenwich Village.

You enter the apartment into a living room which gives you a sofa, a TV with cable and an AC.

The kitchen that is equipped with a stove, an oven, aa toaster, a microwave oven and a refrigerator with freezing compartment.

The bedroom with hardwood floors provides a double size bed, an AC, a closet, a desk with a chair.

Transportation:

D train runs at West 4 Street.
R train runs at 8St/ NYU.

Neighborhood (copy from WIKIPEDIA):

Greenwich Village is a neighborhood on the west side of Lower Manhattan, New York City. Greenwich Village has been known as an artists' haven, the Bohemian capital, the cradle of the modern LGBT movement, and the East Coast birthplace of both the Beat and '60s counterculture movements. Groenwijck, one of the Dutch names for the village (meaning "Green District"), was Anglicized to Greenwich. New York University (NYU) is located in Greenwich Village.
Neighbourhood

Station :

West 4 Street/Washington Square/Avenue of Americas







Nearby services
Park - Restaurant
Availability
Price
| | |
| --- | --- |
| price / month | from 9 months |
| Available now | $3,800 |
Rental period
min 9 months