2 bedroom furnished apartment
(Crown Heights), 628 sqft, rental $2,350 /month
Address: Dean Street, Brooklyn (11213), near subway station: Nostrand Avenue
Crown Heights
Floor area 628 sqf -
1st Floor no elevator
(628.0 sqf certified)

Nostrand Avenue

Available from 31-Dec-19
# 3B718091
Calculate your stay price
min 1 month

This is a fully furnished 2BR/1BA apartment located on the 1st floor of a Town House, in Crown Heights.

The entrance opens up into the spacious living room offering a dining table, a sofa and a flat screen TV on a TV stand.
The open kitchen includes a stove with an oven, a refrigerator with a freezing compartment, a microwave, a sink and a cofee maker.
The first bedroom has a sofa convertible in a full size bed, two bedside tables, a cofee table and a closet.
The second bedroom (181sqft) features a queen size bed with two bedside tables, and a large closet (27sqft).
The bathroom has a toilet, a shower in a tub and a sink.

Transportation:
A and C trains run at Utica Av 0. 23 miles

Neighborhood:
Crown Heights is a neighborhood in the central portion of the New York City borough of Brooklyn. The main thoroughfare through this neighborhood is Eastern Parkway, a tree-lined boulevard designed by Frederick Law Olmsted extending 2 miles (3. 2 kilometres) east–west. Originally, the area was known as Crow Hill. It was a succession of hills running east and west from Utica Avenue to Washington Avenue, and south to Empire Boulevard and East New York Avenue. The name was changed when Crown Street was cut through in 1916.Read the following
Interactive plan
Click on one room in order to see the pictures.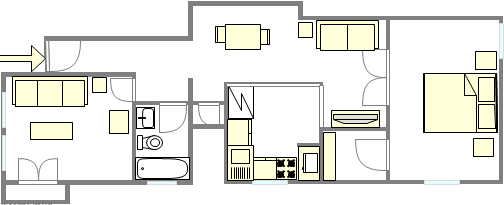 Building
Housing services
No smoking
Pets not accepted
TV
This is a fully furnished 2BR/1BA apartment located on the 1st floor of a Town House, in Crown Heights.

The entrance opens up into the spacious living room offering a dining table, a sofa and a flat screen TV on a TV stand.
The open kitchen includes a stove with an oven, a refrigerator with a freezing compartment, a microwave, a sink and a cofee maker.
The first bedroom has a sofa convertible in a full size bed, two bedside tables, a cofee table and a closet.
The second bedroom (181sqft) features a queen size bed with two bedside tables, and a large closet (27sqft).
The bathroom has a toilet, a shower in a tub and a sink.

Transportation:
A and C trains run at Utica Av 0. 23 miles

Neighborhood:
Crown Heights is a neighborhood in the central portion of the New York City borough of Brooklyn. The main thoroughfare through this neighborhood is Eastern Parkway, a tree-lined boulevard designed by Frederick Law Olmsted extending 2 miles (3. 2 kilometres) east–west. Originally, the area was known as Crow Hill. It was a succession of hills running east and west from Utica Avenue to Washington Avenue, and south to Empire Boulevard and East New York Avenue. The name was changed when Crown Street was cut through in 1916.
Neighbourhood

Station :

Nostrand Avenue
Nearby services
Park - Restaurant
Availability
Price
| | |
| --- | --- |
| price / month | from 1 month |
| Available from 31-Dec-19 | $2,350 |