1 bedroom furnished apartment
(Bedford Stuyvesant), 543 sqft, rental from $2,000 /month
Address: Pacific Street, Brooklyn (11216), near subway station: Kingston Avenue/Throop Avenue/Fulton Street (C)
Bedford Stuyvesant
Floor area 543 sqf -
3rd floor no elevator
(543.0 sqf certified)

Kingston Avenue/Throop Avenue/Fulton Street


Available from 23-Mar-22
# 2BT18349
Calculate your stay price
min 1 month

This is a 1BR/1BA apartment located in a brownstone building on the 4th floor in bedford Stuyvesant, only 3 min away by walk from the subway.

The bright and cozy interior design, with a bit of an antique feel, features a sofa with its coffee table, a Flat screen TV and a dining table.
The kitchen includes a sink, a stove with an oven and a refrigerator with a freezing compartment.
The Bedroom with two large windows, offers a full size bed with two bedside tables, a flat screen TV and a dresser.
The spacious bathroom has a tub, a sink and a toilet.
My place is close to Barclay's Center and Downtown Brooklyn shopping district, Brooklyn Bridge (15 minutes), and Manhattan (30 minutes).

Transportation:
LIRR at Nostrand Avenue 0. 17 miles
C at Kingston-Throop 0. 27 miles
AC at Nostrand Av 0. 3 miles
3 at Kingston Av 0. 58 miles
3 at Nostrand Av 0. 58 miles



Neighborhood: ( Copy from Wikipedia):
Bedford–Stuyve- sant is bordered by Flushing Avenue to the north (bordering Williamsburg), Classon Avenue to the west (bordering Clinton Hill), Broadway to the east (bordering Bushwick), and Atlantic Avenue to the south (bordering Crown Heights and Brownsville). The main north–south thoroughfare is Nostrand Avenue, but the main shopping street is Fulton Street; the latter lies above the main subway line for the area, on the A C trains. Fulton Street runs east–west the length of the neighborhood and intersects high-traffic streets including Bedford Avenue, Nostrand Avenue, and Stuyvesant Avenue. Bedford–Stuyvesant is actually made up of four neighborhoods: Bedford, Stuyvesant Heights, Ocean Hill, and Weeksville (also part of Crown Heights). Part of Clinton Hill used to be considered part of Bedford–Stuyvesant.Read the following
Interactive plan
Click on one room in order to see the pictures.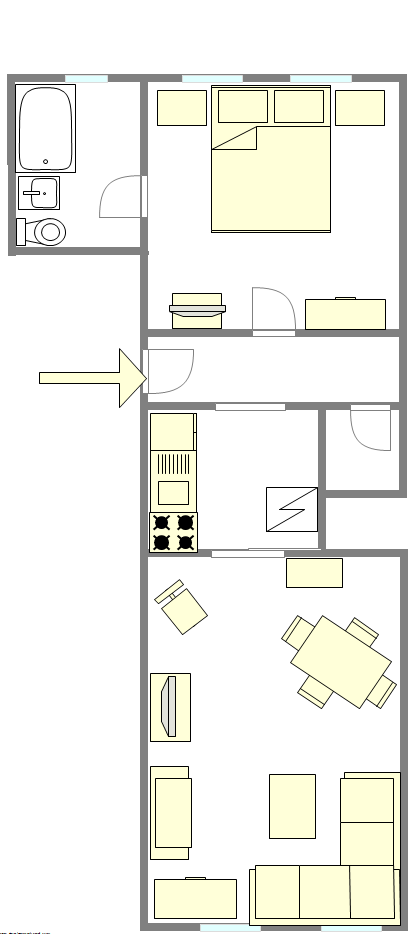 Housing services
No smoking
Pets not accepted
Air conditioning
Internet included
Cable
TV
This is a 1BR/1BA apartment located in a brownstone building on the 4th floor in bedford Stuyvesant, only 3 min away by walk from the subway.

The bright and cozy interior design, with a bit of an antique feel, features a sofa with its coffee table, a Flat screen TV and a dining table.
The kitchen includes a sink, a stove with an oven and a refrigerator with a freezing compartment.
The Bedroom with two large windows, offers a full size bed with two bedside tables, a flat screen TV and a dresser.
The spacious bathroom has a tub, a sink and a toilet.
My place is close to Barclay's Center and Downtown Brooklyn shopping district, Brooklyn Bridge (15 minutes), and Manhattan (30 minutes).

Transportation:
LIRR at Nostrand Avenue 0. 17 miles
C at Kingston-Throop 0. 27 miles
AC at Nostrand Av 0. 3 miles
3 at Kingston Av 0. 58 miles
3 at Nostrand Av 0. 58 miles



Neighborhood: ( Copy from Wikipedia):
Bedford–Stuyve- sant is bordered by Flushing Avenue to the north (bordering Williamsburg), Classon Avenue to the west (bordering Clinton Hill), Broadway to the east (bordering Bushwick), and Atlantic Avenue to the south (bordering Crown Heights and Brownsville). The main north–south thoroughfare is Nostrand Avenue, but the main shopping street is Fulton Street; the latter lies above the main subway line for the area, on the A C trains. Fulton Street runs east–west the length of the neighborhood and intersects high-traffic streets including Bedford Avenue, Nostrand Avenue, and Stuyvesant Avenue. Bedford–Stuyvesant is actually made up of four neighborhoods: Bedford, Stuyvesant Heights, Ocean Hill, and Weeksville (also part of Crown Heights). Part of Clinton Hill used to be considered part of Bedford–Stuyvesant.




Neighbourhood

Station :

Kingston Avenue/Throop Avenue/Fulton Street

Nearby services
Laundromat - Supermarket - Park - pharmacy - Restaurant
Availability
Price
| | |
| --- | --- |
| price / month | from 1 month |
| Available from 23-Mar-22 | $2,000 |