1 bedroom furnished apartment with pets accepted
(Bushwick), 515 sqft, rental $3,400 /month
Address: Eldert Street, Brooklyn (11237), near subway station: Halsey Street/Broadway (J)
Bushwick
Floor area 515 sqf -
2nd floor no elevator

Halsey Street/Broadway


Available now
# 2D218565
Calculate your stay price
min 12 months

This is a beautiful, recently renovated and fully furnished 1BR/1BA apartment located in Bushwick, only 5min away from the L train (0. 29 mile), 20 minutes by subway from Manhattan.

With plenty of natural light this apartment offers unique design with exposed bricks in the living room which gives the whole lot of cachet.
The living room features a sofa and wholechair, a shelves, a table with 4 chairs and an open kitchen which is fully furnished with high end appliances (diswasher, microwave, esspresso machine, smeg refridgerators & stoves, etc).

The white fully tiled bathroom has a large shower, a toilet and a sink. The bedroom includes a queen size bed with bedside tables, a desk with a chair in front of the window and you can rest in the confortable wholechair beside.

This apartment offers bundled utilities, free wifi and sonos speakers.
You will enjoy a free laundry in the building, a nest ecoclimate control and smartphone intercom system.
Common areas include rooftop, backyard hang out and a common room for all residents with spacious living for working or socializing.

Perfect for young professionals or studdy people you will be in touch with all the neighborwood in a community life.


Transportation:

L line runs at Halsey St (0. 26 miles)
L line runs at Wilson Av (0. 3 miles)
L and M lines run at Myrtle-Wyckoff Avs( 0. 5 miles)
J line run at Halsey St (0. 67 miles)
J and Z lines run at Chauncey S 0. 7 miles)


Neighborhood ( Copy from Wikipedia):

Bushwick is a working-class neighborhood in the northern part of the New York City borough of Brooklyn. Bushwick shares a border with Ridgewood, Queens, to the northeast, and is bound by the Brooklyn neighborhoods of Williamsburg to the northwest; East New York and the cemeteries of Highland Park to the southeast; Brownsville to the south; and Bedford-Stuyvesant to the southwest. It is served by ZIP codes 11206, 11207, 11221, and 11237. Bushwick was once an independent town and has undergone various territorial changes throughout its history.
A flourishing artist community, which has existed in Bushwick for decades, now is a main demographic of Bushwick; dozens of art studios and galleries are scattered throughout the neighborhood. There are several open studios programs that help the public visit artist studios and galleries and a number of websites dedicated to promoting neighborhood art and events. Bushwick artists display their works in galleries and private spaces throughout the neighborhood. The borough's first and only trailer park, a 20-person art collective established by founder, Hayden Cummings and ZenoRadio's Baruch Herzfeld for creatives to reside and work was established within a former nut roasting factory.Read the following
Interactive plan
Click on one room in order to see the pictures.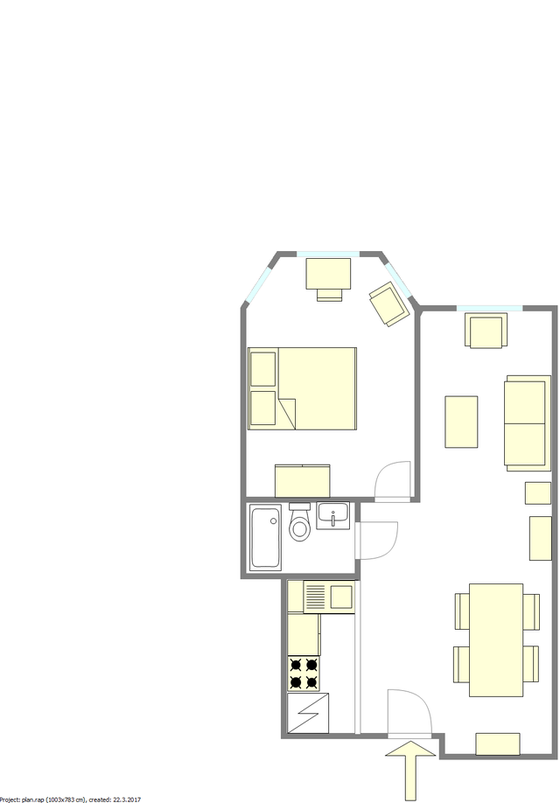 Building
Housing services
No smoking
Pets accepted
Air conditioning
Internet included
Cable
Laundromat in the building - bin room
This is a beautiful, recently renovated and fully furnished 1BR/1BA apartment located in Bushwick, only 5min away from the L train (0. 29 mile), 20 minutes by subway from Manhattan.

With plenty of natural light this apartment offers unique design with exposed bricks in the living room which gives the whole lot of cachet.
The living room features a sofa and wholechair, a shelves, a table with 4 chairs and an open kitchen which is fully furnished with high end appliances (diswasher, microwave, esspresso machine, smeg refridgerators & stoves, etc).

The white fully tiled bathroom has a large shower, a toilet and a sink. The bedroom includes a queen size bed with bedside tables, a desk with a chair in front of the window and you can rest in the confortable wholechair beside.

This apartment offers bundled utilities, free wifi and sonos speakers.
You will enjoy a free laundry in the building, a nest ecoclimate control and smartphone intercom system.
Common areas include rooftop, backyard hang out and a common room for all residents with spacious living for working or socializing.

Perfect for young professionals or studdy people you will be in touch with all the neighborwood in a community life.


Transportation:

L line runs at Halsey St (0. 26 miles)
L line runs at Wilson Av (0. 3 miles)
L and M lines run at Myrtle-Wyckoff Avs( 0. 5 miles)
J line run at Halsey St (0. 67 miles)
J and Z lines run at Chauncey S 0. 7 miles)


Neighborhood ( Copy from Wikipedia):

Bushwick is a working-class neighborhood in the northern part of the New York City borough of Brooklyn. Bushwick shares a border with Ridgewood, Queens, to the northeast, and is bound by the Brooklyn neighborhoods of Williamsburg to the northwest; East New York and the cemeteries of Highland Park to the southeast; Brownsville to the south; and Bedford-Stuyvesant to the southwest. It is served by ZIP codes 11206, 11207, 11221, and 11237. Bushwick was once an independent town and has undergone various territorial changes throughout its history.
A flourishing artist community, which has existed in Bushwick for decades, now is a main demographic of Bushwick; dozens of art studios and galleries are scattered throughout the neighborhood. There are several open studios programs that help the public visit artist studios and galleries and a number of websites dedicated to promoting neighborhood art and events. Bushwick artists display their works in galleries and private spaces throughout the neighborhood. The borough's first and only trailer park, a 20-person art collective established by founder, Hayden Cummings and ZenoRadio's Baruch Herzfeld for creatives to reside and work was established within a former nut roasting factory.

Neighbourhood

Station :

Halsey Street/Broadway

Nearby services
Supermarket - Park - pharmacy - Restaurant
Availability
Price
| | |
| --- | --- |
| price / month | from 12 months |
| Available now | $3,400 |
Rental period
min 12 months