Furnished studio with elevator
(Theatre District), 365 sqft, rental $4,500 /month
Address: West 56Th Street, New York (10019), near subway station: 57 Street/7 Avenue (N,Q,R,W)
Theatre District
Floor area 365 sqf -
9th floor elevator

57 Street/7 Avenue





Available now
# 13218690
Calculate your stay price
min 1 month

This is a fully furnished studio apartment located 56th Street, between 8th and 9th Avenue. In the Heart of Columbus Cirle, the 25 story full service building features a gym, an on-site laundry, a roofdeck and an on-site parking.

The entrance door opens up into the living room which is furnished with a full size bed and its bedside table, a sofa with a cofee table and a Flat Screen TV on a storage buffet. It has wood floors and a window overlooking the street. There are also two closets
The open kitchen is equipped with a dishwasher, sink, a stove, an oven and a microwave , a coffee maker, a toaster and a refrigerator with a freezing compartment.
The bathroom has a sink with a mirror above and a cabinet under, a shower in a tub and a toilet.

Transportation
A, B, C, D, 1 trains are on 59th Street/ Columbus Circle
N, Q, R trains are on 57th Street/7th Avenue
C and E trains are on 50th Street/8th Avenue

Neighborhood (Copy from Wikipedia):
New York City's Theater District is an area in Midtown Manhattan where most Broadway theaters are located, as well as many other theaters, movie theaters, restaurants, hotels, and other places of entertainment. It extends from West 40th Street to West 54th Street, and from Sixth Avenue to Eighth Avenue, and includes Times Square. The Great White Way is the name given to the section of Broadway which runs through the Theater District.
It also contains recording studios, record label offices, theatrical agencies, television studios, restaurants, Duffy Square, Shubert Alley, the Brill Building, a Ripley's Believe It or Not! Odditorium, and Madame Tussauds of New York.Read the following
Virtual tour
The virtual tour isn't working? Check that your web browser is up-to-date by clicking here
Interactive plan
Click on one room in order to see the pictures.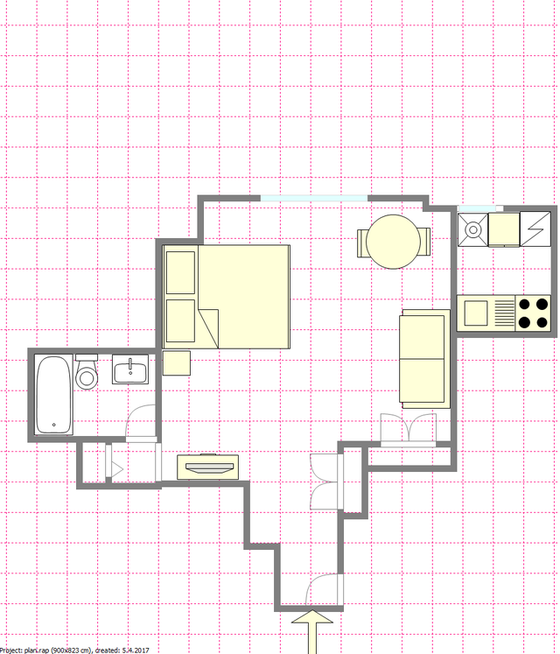 Building
Housing services
Elevator
No smoking
Pets not accepted
Air conditioning
Internet included
Cable
Dishwasher
TV
Doorman - Laundromat in the building - Club de gym dans la résidence - Concierge
This is a fully furnished studio apartment located 56th Street, between 8th and 9th Avenue. In the Heart of Columbus Cirle, the 25 story full service building features a gym, an on-site laundry, a roofdeck and an on-site parking.

The entrance door opens up into the living room which is furnished with a full size bed and its bedside table, a sofa with a cofee table and a Flat Screen TV on a storage buffet. It has wood floors and a window overlooking the street. There are also two closets
The open kitchen is equipped with a dishwasher, sink, a stove, an oven and a microwave , a coffee maker, a toaster and a refrigerator with a freezing compartment.
The bathroom has a sink with a mirror above and a cabinet under, a shower in a tub and a toilet.

Transportation
A, B, C, D, 1 trains are on 59th Street/ Columbus Circle
N, Q, R trains are on 57th Street/7th Avenue
C and E trains are on 50th Street/8th Avenue

Neighborhood (Copy from Wikipedia):
New York City's Theater District is an area in Midtown Manhattan where most Broadway theaters are located, as well as many other theaters, movie theaters, restaurants, hotels, and other places of entertainment. It extends from West 40th Street to West 54th Street, and from Sixth Avenue to Eighth Avenue, and includes Times Square. The Great White Way is the name given to the section of Broadway which runs through the Theater District.
It also contains recording studios, record label offices, theatrical agencies, television studios, restaurants, Duffy Square, Shubert Alley, the Brill Building, a Ripley's Believe It or Not! Odditorium, and Madame Tussauds of New York.

Neighbourhood

Station :

57 Street/7 Avenue




Nearby services
Supermarket - Park - Cinema - Theater - Restaurant
Availability
Price
| | |
| --- | --- |
| price / month | from 1 month |
| Available now | $4,500 |