3 bedroom furnished triplex with elevator and washing machine
(Sutton), 2850 sqft, rental $18,000 /month
Address: East 57Th Street, New York City (10022), near subway station: 59 Street/Lexington Avenue (4,5,6)
Sutton
Floor area 2850 sqf -
8th floor elevator

59 Street/Lexington Avenue




Available now
# 64118870
Calculate your stay price
min 1 month

This is a triplex apartment locates in a high-rise building in the Sutton Place area in Manhattan.

The building features:
24 hour doorman and concierge
Landscaped courtyard
Fitness centre and laundry service
Free local and long distance calling included (US, Canada, and Puerto Rico only)
Free in-room internet included
Free HD channels included
Free gas and electric included

The apartment features:
Stainless steel appliances and a dish washer in the fully equipped kitchen
King Size bed in the master bedroom and bedroom 3
Two twin size beds in the second bedroom
Washer and Dryer in suite
Flat-screen TV in the master bedroom, two living rooms.

Location (Wikipedia)
York Avenue and Sutton Place are the names of a relatively short north-south thoroughfare in the Yorkville, Lenox Hill, and Sutton Place neighborhoods of the East Side of Manhattan, in New York City. York Avenue runs from 59th to 91st Streets through eastern Lenox Hill and Yorkville on the Upper East Side. Sutton Place and its southern extension runs through their namesake neighborhood along the East River and south of the Queensboro Bridge, with Sutton Place South running from 53rd to 57th Streets and Sutton Place from 57th to 59th Streets. The street is considered among the city's most affluent, and both portions are known for upscale apartments, much like the rest of the Upper East Side.Read the following
Apartment blueprint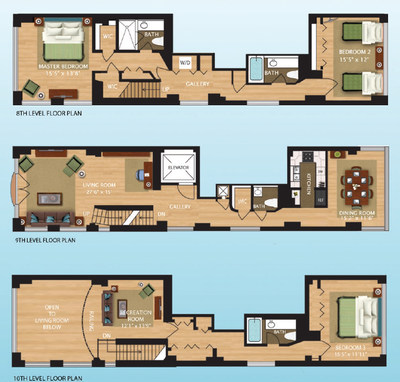 Building
Room detail
Dining table - 1 Chair(s) - Bedside table
window - Wooden
Double sink Meat & Milk - Hob - Refrigerator - Freezer - Oven - Microwave oven - wardrobe - Cupboard - crockery
Separate - Wooden
Linen - wardrobe - Bedside table
window - Wooden - Single bed - Single bed
Linen - wardrobe - Bedside table
window - Wooden - King size bed
Closet - Separate shower - Sink
Tile
wardrobe - bath tub - Sink
Tile
wardrobe - bath tub - Sink
Tile
Housing services
Elevator
No smoking
Pets not accepted
Air conditioning
Internet included
Cable
Washing machine
Dryer
Dishwasher
TV
Double sink Meat & Milk
Doorman - Laundromat in the building - Club de gym dans la résidence - Concierge
This is a triplex apartment locates in a high-rise building in the Sutton Place area in Manhattan.

The building features:
24 hour doorman and concierge
Landscaped courtyard
Fitness centre and laundry service
Free local and long distance calling included (US, Canada, and Puerto Rico only)
Free in-room internet included
Free HD channels included
Free gas and electric included

The apartment features:
Stainless steel appliances and a dish washer in the fully equipped kitchen
King Size bed in the master bedroom and bedroom 3
Two twin size beds in the second bedroom
Washer and Dryer in suite
Flat-screen TV in the master bedroom, two living rooms.

Location (Wikipedia)
York Avenue and Sutton Place are the names of a relatively short north-south thoroughfare in the Yorkville, Lenox Hill, and Sutton Place neighborhoods of the East Side of Manhattan, in New York City. York Avenue runs from 59th to 91st Streets through eastern Lenox Hill and Yorkville on the Upper East Side. Sutton Place and its southern extension runs through their namesake neighborhood along the East River and south of the Queensboro Bridge, with Sutton Place South running from 53rd to 57th Streets and Sutton Place from 57th to 59th Streets. The street is considered among the city's most affluent, and both portions are known for upscale apartments, much like the rest of the Upper East Side.


Neighbourhood

Station :

59 Street/Lexington Avenue



Nearby services
Internet cafe - Supermarket - Restaurant
Availability
Price
| | |
| --- | --- |
| price / month | from 1 month |
| Available now | $18,000 |