2 bedroom furnished apartment
(Upper East Side), 350 sqft, rental
Address: Lexington Avenue, New York (10021), near subway station: 77 Street/4 Avenue (6)
Upper East Side
Floor area 350 sqf -
3rd floor no elevator

77 Street/4 Avenue


This property has already been rented
# 32019631
Calculate your stay price
This is a fully furnished 1 bedroom 1 bathroom apartment located on the 3rd floor of a traditional NYC walk-up building at the cross road of 73rd street and Lexington Avenue in the Upper East Side.

Apartment features:
Fully equipped kitchen with all utensils needed
1 Queen sized bed, closet and dresser in bedroom
Wifi ready and flat screen TV with basic channels in both living room and bedroom
Dining table with 4 seats and 2 comfortable sofas that can be converted into full sized beds in living room
Hardwood floor throughout and fully air-conditioned and heated

Transportation:
Ea- sy access to the rest of the city by subway line 6 at 77th street station and line Q at 72nd street station

Neighborhood (Wikipedia)
The Upper East Side is a neighborhood in the borough of Manhattan in New York City, between Central Park/Fifth Avenue, 59th Street, the East River, and 96th Street. The area incorporates several smaller neighborhoods, including Lenox Hill, Carnegie Hill, and Yorkville. Once known as the Silk Stocking District, it is now one of the most affluent neighborhoods in New York City.
The posh, residential Upper East Side is known for its wealthy denizens, fancy restaurants and designer shops along Madison Avenue. It's a pretty neighborhood, with a mix of classic brownstones and upscale high-rises. Museum Mile, a stretch of 5th Avenue next to Central Park, draws crowds to cultural institutions that include the Metropolitan Museum of Art, the Solomon R. Guggenheim Museum and El Museo del Barrio.Read the following
Virtual tour
The virtual tour isn't working? Check that your web browser is up-to-date by clicking here
Apartment blueprint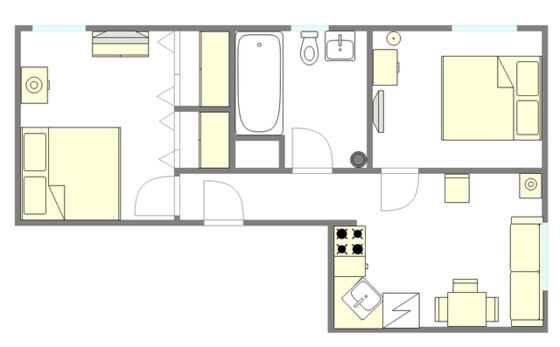 Housing services
No smoking
Pets not accepted
Air conditioning
TV
This is a fully furnished 1 bedroom 1 bathroom apartment located on the 3rd floor of a traditional NYC walk-up building at the cross road of 73rd street and Lexington Avenue in the Upper East Side.

Apartment features:
Fully equipped kitchen with all utensils needed
1 Queen sized bed, closet and dresser in bedroom
Wifi ready and flat screen TV with basic channels in both living room and bedroom
Dining table with 4 seats and 2 comfortable sofas that can be converted into full sized beds in living room
Hardwood floor throughout and fully air-conditioned and heated

Transportation:
Ea- sy access to the rest of the city by subway line 6 at 77th street station and line Q at 72nd street station

Neighborhood (Wikipedia)
The Upper East Side is a neighborhood in the borough of Manhattan in New York City, between Central Park/Fifth Avenue, 59th Street, the East River, and 96th Street. The area incorporates several smaller neighborhoods, including Lenox Hill, Carnegie Hill, and Yorkville. Once known as the Silk Stocking District, it is now one of the most affluent neighborhoods in New York City.
The posh, residential Upper East Side is known for its wealthy denizens, fancy restaurants and designer shops along Madison Avenue. It's a pretty neighborhood, with a mix of classic brownstones and upscale high-rises. Museum Mile, a stretch of 5th Avenue next to Central Park, draws crowds to cultural institutions that include the Metropolitan Museum of Art, the Solomon R. Guggenheim Museum and El Museo del Barrio.
Neighbourhood

Station :

77 Street/4 Avenue

Nearby services
Laundromat - Park - Fitness center - School - Museum - Restaurant
Availability
Price
This property has already been rented