3 bedroom furnished duplex with laundromat in the building
(Upper West Side), 1040 sqft, rental from $5,175 /month
Address: West 105Th Street, New York (10025), near subway station: 103 Street/Central Park West (B,C)
Upper West Side
Floor area 1040 sqf -
1st Floor no elevator

103 Street/Central Park West



Available now
# 4122265
No agency fees until 01-Jan-70
Calculate your stay price
min 1 month

This is a fully furnished 3 bedroom / 1, 5 bathroom duplex apartment located on the first floor of a walk up building between Manhattan Avenue and Central Park West.
The residence features a separate kitchen equipped with custom cabinetry, a dishwasher, a microwave, a coffee maker, a stove/oven and a refrigerator with freezing compartment.
The living room with closet offers two sofas, an armchair, a dining table with chairs, a bedsides tables, a TV and a coffee table.
The first bedroom provide two closets, a queen size bed and a single size bed.
The second bedroom with a closet has a queen size bed and a dresser.
The third bedroom with a closet offers a queen size bed, a single size bed, a TV and an armchair. Please note this room has curtains instead of doors.
The bathroom with closet includes a shower in tub, a sink and a toilet.
There is a WC in the apartment.

Transportation

B C trains run at 103 St/ Central Park WestRead the following
Interactive plan
Click on one room in order to see the pictures.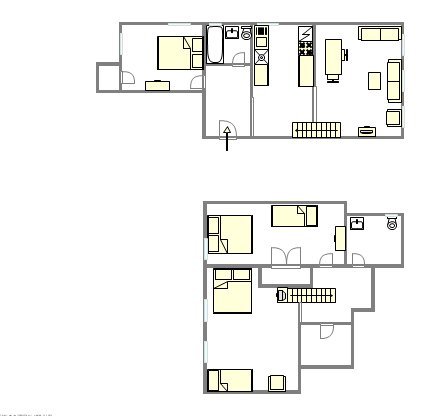 Building
Housing services
No smoking
Pets not accepted
Air conditioning
Internet included
Cable
Dishwasher
TV
Linen - Laundromat in the building
This is a fully furnished 3 bedroom / 1, 5 bathroom duplex apartment located on the first floor of a walk up building between Manhattan Avenue and Central Park West.
The residence features a separate kitchen equipped with custom cabinetry, a dishwasher, a microwave, a coffee maker, a stove/oven and a refrigerator with freezing compartment.
The living room with closet offers two sofas, an armchair, a dining table with chairs, a bedsides tables, a TV and a coffee table.
The first bedroom provide two closets, a queen size bed and a single size bed.
The second bedroom with a closet has a queen size bed and a dresser.
The third bedroom with a closet offers a queen size bed, a single size bed, a TV and an armchair. Please note this room has curtains instead of doors.
The bathroom with closet includes a shower in tub, a sink and a toilet.
There is a WC in the apartment.

Transportation

B C trains run at 103 St/ Central Park West


Neighbourhood

Station :

103 Street/Central Park West


Nearby services
Supermarket - Park - pharmacy
Availability
Price
| | |
| --- | --- |
| price / month | from 1 month |
| Available now | $5,175 |
reviews (7)





Clients' average rating : 4 / 5


Good (3 / 5)
One of the rooms don't have door (it's a curtain, no one mention that!)! In Down Floor there is a noise (like drops inside your room) all night long, if you have light sleep, will be horrible. The Apartment is big and good for 5/6 persons. Near metro station (103W). Free wifi.

Ricardo-Miguel B. (Portugal)

Very good (4 / 5)
iln'était pas précissé que l'appartement ne disposait d'aucune vue à plus d 1 m ; pas de vue sur l'extérieur une deuxième douche serait la bienvenue

Carine D. (Belgium)

Excellent (5 / 5)
It was just as described, and the owner was very welcoming.

Ruth N. (United Kingdom)

Very good (4 / 5)
L'appartamento è molto grande e vivibile, tre camere da letto, due delle tre hanno un ulteriore lettino. E' in ottima posizione a pochi passi dalla metro e proprio davanti a central park. Unico neo, la pulizia lasciava un pò a desiderare, consiglio di portare la propria biancheria (lenzuola e asciugamani)noi abbiamo lavato le coperte messe a disposizione.

Annalisa Z. (Italia)

Very good (4 / 5)
Apartment was great and perfect for 5 people sharing. It was just a little far uptown for socialising.

Mary C.

Very good (4 / 5)


Marco F.

Very good (4 / 5)
the apartment was OK, quiet though dark . It was well equipped

Remi G.