2 bedroom furnished loft with elevator, washing machine and laundromat in the building
(Chelsea), 3000 sqft, rental $14,000 /month
Address: West 27Th Street, New York (10001), near subway station: 28 Street/Broadway (R,W)
Chelsea
Floor area 3000 sqf -
12nd floor elevator

28 Street/Broadway



Available now
# 3510534
Calculate your stay price
min 1 month max 2 months

MINIMUM STAY 1 MONTH
This apartment is located in Chelsea between Sixth Avenue and Seventh Avenue.

About 3000 square feet, this 2 Bedroom/ 2 Bathroom apartment is on the twelfth floor of a high rise building with elevator.

The entrance door opens to the living room which has six windows, wooden floors and equipped with a dining table up to six people, three sofas and a coffee table.

The open kitchen is faces the living room which has tiled floors and is fully equipped with a stove, an oven, a refrigerator with a freezing compartment, a dishwasher, a dining table, four stools and multiple cupboards.

At the back of the kitchen, you can find a hallway which leads you to the bedrooms and bathrooms.

On your right, the door leads you to the fully tiled bathroom which is equipped with a separate shower, a sink and a toilet.

On your left, the door leads you to the first bedroom which has wooden floors, a closet, a queen sized bed, and an armchair. This bedroom has a private bathroom with a bathtub with shower, a sink and a toilet.

The second bedroom is at the back of the hallway which has five windows, a Murphy bed, and a TV.





Transportation :

The apartment is situated at only 1 block from the # 1, N, R. You may also take the trains 2, 3, B, D, F which are about 10 minutes walking distance from the building. .






Neighborhood :

Chelsea is a neighborhood on the West Side of the borough of Manhattan in New York City.

The district's boundaries are roughly 14th Street to the south, 30th Street to the north, the western boundary of the Ladies' Mile Historic District which lies between the Avenue of the Americas (Sixth Avenue) and Seventh Avenue to the east, and the Hudson River and West Street to the west.

To the north of Chelsea is the neighborhood of Hell's Kitchen, also known as "Clinton", to the northeast is the Garment District, to the east are NoMad and the Flatiron District, to the southwest is the Meatpacking District and to the southeast is the West Village.Read the following
Interactive plan
Click on one room in order to see the pictures.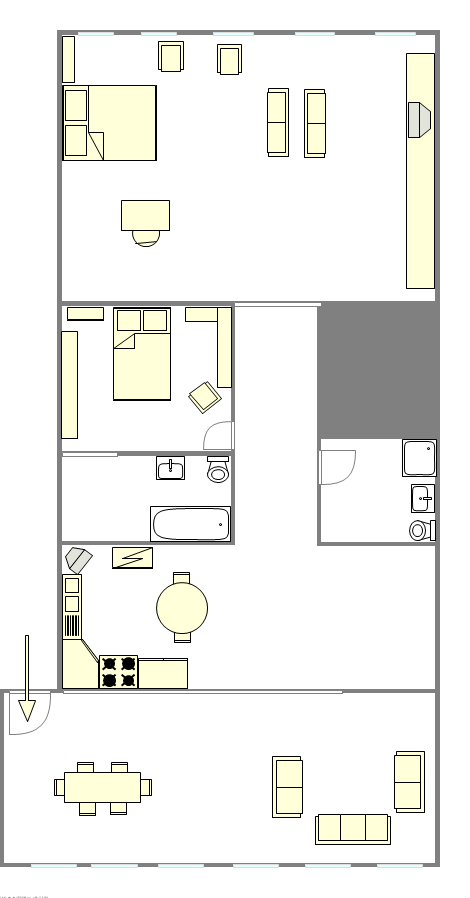 Building
Housing services
Elevator
No smoking
Pets not accepted
Telephone line
Cable
Washing machine
Dryer
Dishwasher
TV
Linen - Laundromat in the building - Intercom
Central heating - Central water boiler
MINIMUM STAY 1 MONTH
This apartment is located in Chelsea between Sixth Avenue and Seventh Avenue.

About 3000 square feet, this 2 Bedroom/ 2 Bathroom apartment is on the twelfth floor of a high rise building with elevator.

The entrance door opens to the living room which has six windows, wooden floors and equipped with a dining table up to six people, three sofas and a coffee table.

The open kitchen is faces the living room which has tiled floors and is fully equipped with a stove, an oven, a refrigerator with a freezing compartment, a dishwasher, a dining table, four stools and multiple cupboards.

At the back of the kitchen, you can find a hallway which leads you to the bedrooms and bathrooms.

On your right, the door leads you to the fully tiled bathroom which is equipped with a separate shower, a sink and a toilet.

On your left, the door leads you to the first bedroom which has wooden floors, a closet, a queen sized bed, and an armchair. This bedroom has a private bathroom with a bathtub with shower, a sink and a toilet.

The second bedroom is at the back of the hallway which has five windows, a Murphy bed, and a TV.





Transportation :

The apartment is situated at only 1 block from the # 1, N, R. You may also take the trains 2, 3, B, D, F which are about 10 minutes walking distance from the building. .






Neighborhood :

Chelsea is a neighborhood on the West Side of the borough of Manhattan in New York City.

The district's boundaries are roughly 14th Street to the south, 30th Street to the north, the western boundary of the Ladies' Mile Historic District which lies between the Avenue of the Americas (Sixth Avenue) and Seventh Avenue to the east, and the Hudson River and West Street to the west.

To the north of Chelsea is the neighborhood of Hell's Kitchen, also known as "Clinton", to the northeast is the Garment District, to the east are NoMad and the Flatiron District, to the southwest is the Meatpacking District and to the southeast is the West Village.






Neighbourhood

Station :

28 Street/Broadway


Nearby services
Supermarket - Restaurant
Availability
Price
| | |
| --- | --- |
| price / month | from 1 to 2 months |
| Available now | $14,000 |
Rental period
min 1 month max 2 months
reviews (3)





Clients' average rating : 3.7 / 5
Very good (4 / 5)
Propre, spacieux, confortable, superbe vue sur l'Empire State. Chauffage bruyant, travaux dans l'immeuble pendant notre séjour.

Eva M. (France)

Good (3 / 5)
not really 2 bedrooms, the heats have to be repaired. ths flat is ok for a 4 people familly, not more.

Cédric P. (France)

Very good (4 / 5)


Alexandre D. (France)