1 bedroom furnished house with garden
(Harlem), 600 sqft, rental $2,500 /month
Address: West 130Th Street, New York (10037), near subway station: 125 Street/Lenox Avenue (2,3)
Harlem
Floor area 600 sqf -

125 Street/Lenox Avenue



Available now
# 2845489
Calculate your stay price
min 1 month

This is a fully furnished one bedroom apartment with garden located on the groundfloor of a walk up building at 130Th Street between Lenox and fifth Avenue, in Harlem.

The apartment
You enter the premises into a hall way which leads you to the open Kitchen equipped with a stove, an oven, a refrigerator with freezing compartment and all cookware needed.

The living room provides a TV, a dining table with four chairs, an sofa, an armchair. It has an access to the private garden.

The bedroom offers a full size bed, a desk with his chair, a dresser and a closet. It has wood floors and a window facing the backyard.

The bathroom has a shower in tub, a toilet and a sink.

The backyard has a garden table and fours chairs.

The transportation:
The 2, 3, 4, 5, 6 trains are about 8-10 minutes walking distance from the apartment.

The neighborhood :
Harlem is a neighborhood in the New York City borough of Manhattan, which since the 1920s has been a major residential, cultural, and business center. In the 1920s and 1930s, the neighborhood was the focus of the "Harlem Renaissance", an outpouring of artistic and professional works without precedent. A new Harlem renaissance is in full swing as nightclubs, restaurants, the famous Apollo theater and shops transition. Within 200 feet of the apartment you will find supermarkets, laundry, dry-cleaner, bank, drugstore, restaurants, theater, etc.

Also, Astor Row is the name given to 130th Street between Fifth Avenue and Lenox Avenue in Harlem, in the New York City borough of Manhattan. More specifically, it refers to the semi-attached row houses on the south side of the street. These were among the first speculative townhouses built in Harlem, and their design is very unusual. The houses are set back from the street and all have front yards, an oddity in Manhattan, and all have wooden porches. The effect is southern, and has been compared to the appearance of parts of Savannah, Georgia. The houses were built on land that had been purchased by John Jacob Astor in 1844 for $10, 000, but the development was driven by his grandson, William Backhouse Astor, who hired architect and builder Charles Buek to oversee the project. The houses were all built between 1880 and 1883.Read the following
Interactive plan
Click on one room in order to see the pictures.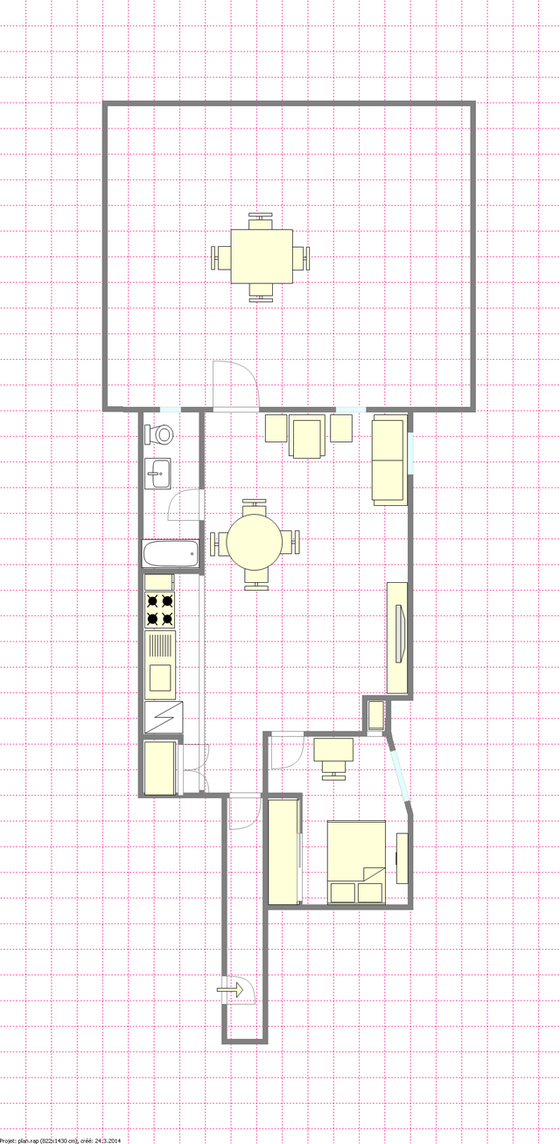 Building
Housing services
No smoking
Pets not accepted
Internet included
Cable
TV
Linen - Intercom
This is a fully furnished one bedroom apartment with garden located on the groundfloor of a walk up building at 130Th Street between Lenox and fifth Avenue, in Harlem.

The apartment
You enter the premises into a hall way which leads you to the open Kitchen equipped with a stove, an oven, a refrigerator with freezing compartment and all cookware needed.

The living room provides a TV, a dining table with four chairs, an sofa, an armchair. It has an access to the private garden.

The bedroom offers a full size bed, a desk with his chair, a dresser and a closet. It has wood floors and a window facing the backyard.

The bathroom has a shower in tub, a toilet and a sink.

The backyard has a garden table and fours chairs.

The transportation:
The 2, 3, 4, 5, 6 trains are about 8-10 minutes walking distance from the apartment.

The neighborhood :
Harlem is a neighborhood in the New York City borough of Manhattan, which since the 1920s has been a major residential, cultural, and business center. In the 1920s and 1930s, the neighborhood was the focus of the "Harlem Renaissance", an outpouring of artistic and professional works without precedent. A new Harlem renaissance is in full swing as nightclubs, restaurants, the famous Apollo theater and shops transition. Within 200 feet of the apartment you will find supermarkets, laundry, dry-cleaner, bank, drugstore, restaurants, theater, etc.

Also, Astor Row is the name given to 130th Street between Fifth Avenue and Lenox Avenue in Harlem, in the New York City borough of Manhattan. More specifically, it refers to the semi-attached row houses on the south side of the street. These were among the first speculative townhouses built in Harlem, and their design is very unusual. The houses are set back from the street and all have front yards, an oddity in Manhattan, and all have wooden porches. The effect is southern, and has been compared to the appearance of parts of Savannah, Georgia. The houses were built on land that had been purchased by John Jacob Astor in 1844 for $10, 000, but the development was driven by his grandson, William Backhouse Astor, who hired architect and builder Charles Buek to oversee the project. The houses were all built between 1880 and 1883.

Neighbourhood

Station :

125 Street/Lenox Avenue


Nearby services
Supermarket - Park - Cinema - pharmacy - Restaurant
Availability
Price
| | |
| --- | --- |
| price / month | from 1 month |
| Available now | $2,500 |
reviews (1)





Clients' average rating : 5 / 5
Excellent (5 / 5)
nice, clean and spacious

Juan-Carlos C.