Furnished studio with wIFI Only and terrace
(Boerum Hill), 530 sqft, rental $3,490 /month
Address: State Street, Brooklyn (11217), near subway station: Hoyt Street/Schermerhorn Street (A,C,G)
Boerum Hill
Floor area 530 sqf -
2nd floor no elevator

Hoyt Street/Schermerhorn Street




Available now
# 1B67738
Calculate your stay price
min 1 month

This is a fully furnished studio located on the second floor of a luxury building at State Street.
The residence features an open kitchen equipped with custom cabinetry, including a stove, an oven, a microwave and a dining table with chairs and a refrigerator with freezing compartment. The kitchen gives also access to the terrass which has a coffee table with chairs.
The living room offers a queen size bed, a sofa bed, two armchairs, a coffee table, a TV, an AC, a closet, a dresser and two bedside tables.
The bathroom includes a shower in tub, a sink and a toilet.

$150/night for 2 occupants, $10/night for extra occupants
$950/week for 2 occupants, $70/week for extra occupants

Transportation:-

A lot of subway station are nearby : Hoyt Schermerhorn (A, C, G) is one block from the apartment, Hoyt Street (2, 3) three blocks away, DeKalb Avenue (B, M, Q, R) is 4 blocks away, as well as Jay Street Borough Hall (A, C, F).
Only three blocks from Fulton Street, where there is the Fulton Mall: a lot of restaurant, shops, coffees. . .Read the following
Interactive plan
Click on one room in order to see the pictures.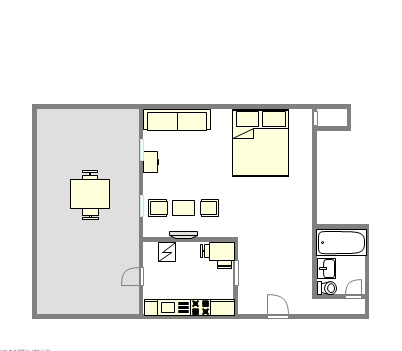 Building
Housing services
No smoking
Pets not accepted
Air conditioning
Internet included
Cable
TV
Linen - WIFI Only
This is a fully furnished studio located on the second floor of a luxury building at State Street.
The residence features an open kitchen equipped with custom cabinetry, including a stove, an oven, a microwave and a dining table with chairs and a refrigerator with freezing compartment. The kitchen gives also access to the terrass which has a coffee table with chairs.
The living room offers a queen size bed, a sofa bed, two armchairs, a coffee table, a TV, an AC, a closet, a dresser and two bedside tables.
The bathroom includes a shower in tub, a sink and a toilet.

$150/night for 2 occupants, $10/night for extra occupants
$950/week for 2 occupants, $70/week for extra occupants

Transportation:-

A lot of subway station are nearby : Hoyt Schermerhorn (A, C, G) is one block from the apartment, Hoyt Street (2, 3) three blocks away, DeKalb Avenue (B, M, Q, R) is 4 blocks away, as well as Jay Street Borough Hall (A, C, F).
Only three blocks from Fulton Street, where there is the Fulton Mall: a lot of restaurant, shops, coffees. . .



Neighbourhood

Station :

Hoyt Street/Schermerhorn Street



Nearby services
Supermarket - Park - pharmacy - Restaurant
Availability
Price
| | |
| --- | --- |
| price / month | from 1 month |
| Available now | $3,490 |
reviews (1)





Clients' average rating : 4 / 5
Very good (4 / 5)


Marianne S. (France)