4 bedroom furnished apartment with elevator, pets accepted and wheelchair access
(Midtown East), 1745 sqft, rental from $18,657 /month
Prestigious rental: Mitchell Place, New York (10017), near subway station: 51 Street/Lexington Avenue (6)
Midtown East
Floor area 1745 sqf -
24th floor elevator

51 Street/Lexington Avenue


Available now
# 54018319
Calculate your stay price
min 1 month

This is a huge, bright and luxious fully furnished 4BR/2. 5BA apartment located in a spectacularly renovated 1920s property in a central location of Midtown East with 3 private terrass.


The apartment features:
- Modern kitchen with granite countertops and hardwood flooring and a dishwasher
- Amazing City and river views from 3 different large terrass.
- 2 big walk-up closets
- Bright Living Room with sofa, flat screen TV, dining table and desk.
- Air-conditioning
- Free bi-monthly housekeeping
- Utilities are included in the price
- Televisions in each bedroom with with basic cable package provided
- Guest handbook with a guide to the city and local community



The Building features:
- 24 hour concierge/doorman
- Free 24 hour fitness center
- Free laundry facilities on-site
- Fully equipped conference and business center
- Apartment & services
- Key packet delivered prior to move-in and customized billing to suit your company's needs

Transportation:
E, M and 6 trains run at 51st St (0. 4 miles)
S, 4, 5, 6 and 7 trains run at 42 Street - Grand Central (0. 5 miles)


Neighborhood:
Located in the Beekman/Sutton area, a uniquely New York mix of gleaming tower blocks in a quiet, residential street. By cab or subway, nowhere is too far away.
A world of international food and drink is just a short walk away. Chill out at the intimate and clubby Beekman Bar & Books, enjoy traditional Japanese noodle soups at traditional ramen shop Nishida Shoten, visit Peak Thai for a fantastic range of authentic Thai fare or shop at one of the famous farmers market of New York just a few blocks away.
Relax at Southpoint Park and Four Freedoms Park on Roosevelt Island, visit the United Nations headquarters, or discover the hidden oasis that is Greenacre Park, a little bit of paradise in the city.Read the following
Interactive plan
Click on one room in order to see the pictures.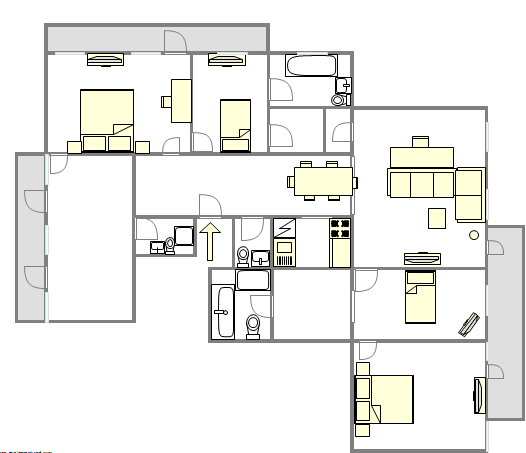 Building
Housing services
Apartment standing :





Elevator
No smoking
Pets accepted
Air conditioning
Internet included
Cable
weekly housekeeping included
Dishwasher
TV
Linen
Doorman - Laundromat in the building - Club de gym dans la résidence - Concierge
This is a huge, bright and luxious fully furnished 4BR/2. 5BA apartment located in a spectacularly renovated 1920s property in a central location of Midtown East with 3 private terrass.


The apartment features:
- Modern kitchen with granite countertops and hardwood flooring and a dishwasher
- Amazing City and river views from 3 different large terrass.
- 2 big walk-up closets
- Bright Living Room with sofa, flat screen TV, dining table and desk.
- Air-conditioning
- Free bi-monthly housekeeping
- Utilities are included in the price
- Televisions in each bedroom with with basic cable package provided
- Guest handbook with a guide to the city and local community



The Building features:
- 24 hour concierge/doorman
- Free 24 hour fitness center
- Free laundry facilities on-site
- Fully equipped conference and business center
- Apartment & services
- Key packet delivered prior to move-in and customized billing to suit your company's needs

Transportation:
E, M and 6 trains run at 51st St (0. 4 miles)
S, 4, 5, 6 and 7 trains run at 42 Street - Grand Central (0. 5 miles)


Neighborhood:
Located in the Beekman/Sutton area, a uniquely New York mix of gleaming tower blocks in a quiet, residential street. By cab or subway, nowhere is too far away.
A world of international food and drink is just a short walk away. Chill out at the intimate and clubby Beekman Bar & Books, enjoy traditional Japanese noodle soups at traditional ramen shop Nishida Shoten, visit Peak Thai for a fantastic range of authentic Thai fare or shop at one of the famous farmers market of New York just a few blocks away.
Relax at Southpoint Park and Four Freedoms Park on Roosevelt Island, visit the United Nations headquarters, or discover the hidden oasis that is Greenacre Park, a little bit of paradise in the city.
Neighbourhood

Station :

51 Street/Lexington Avenue

Nearby services
Supermarket - Park - pharmacy - Restaurant
Availability
Price
| | |
| --- | --- |
| price / month | from 1 month |
| Available now | $18,657 |