1 bedroom furnished apartment with elevator, doorman and laundromat in the building
(Midtown East), 1000 sqft, rental from $7,800 /month
Prestigious rental: Fifth Avenue, New York (10022), near subway station: 5 Avenue/59 Street/60 Street (N,R,W)
Midtown East
Floor area 1000 sqf -
45th floor elevator

5 Avenue/59 Street/60 Street




# 2403838
Calculate your stay price
min 12 months

This is a one bedroom apartment located on fifth avenue between 56th Street and 57th Street.

The entrance has a large closet on the right. After the closet on your right side you can access to the hallway with the bedroom and the bathroom. On the left side of the entrance you can find the second bathroom of the apartment with a toilet, a sink with a mirror, and a separated shower.

Passing the entrance, there is on your left the opened kitchen fully equipped with a stove, an oven, a sink and a refrigerator/freezer. There is also cookware available and all kitchen utensils. The dining area with a dinning table and two benches is next to the kitchen. You will find also a dinning table with 6 chairs in the living room.

The living room has a sofa bed, an armchair and a desk. There is also a large closet with the the TV inside and bookcases. the living room has an opened view on Central Park.  

The bedroom has large windows, a queen size bed with 2 night tables, a dressing table a closet and a TV. The bathroom of the bedroom has marble floors with a sink and a mirror, a toilet, and shower in a tub.  

Subway: 5 Avenue/59 Street/60 Street (N, Q, R) and 57 Street/Avenue of Americas (F)


Neighborhood:Midtown Manhattan, or simply Midtown, is an area of Manhattan, New York City home to world-famous commercial zones such as Rockefeller Center, Broadway, and Times Square. Midtown Manhattan is home to the city's tallest and most famous buildings such as the Empire State Building and Chrysler Building. You will found everything in this neighborhood.Read the following
Interactive plan
Click on one room in order to see the pictures.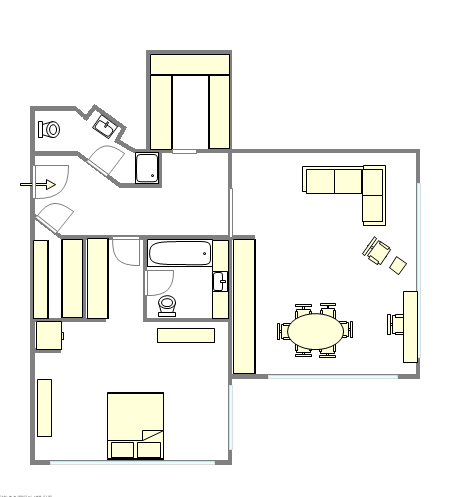 Building
Housing services
Apartment standing :





Elevator
No smoking
Pets not accepted
Air conditioning
Internet included
Cable
Dishwasher
TV
HI-FI Stereo
VCR
Doorman - Linen - Laundromat in the building - Concierge
Condo - Club de gym dans la résidence
This is a one bedroom apartment located on fifth avenue between 56th Street and 57th Street.

The entrance has a large closet on the right. After the closet on your right side you can access to the hallway with the bedroom and the bathroom. On the left side of the entrance you can find the second bathroom of the apartment with a toilet, a sink with a mirror, and a separated shower.

Passing the entrance, there is on your left the opened kitchen fully equipped with a stove, an oven, a sink and a refrigerator/freezer. There is also cookware available and all kitchen utensils. The dining area with a dinning table and two benches is next to the kitchen. You will find also a dinning table with 6 chairs in the living room.

The living room has a sofa bed, an armchair and a desk. There is also a large closet with the the TV inside and bookcases. the living room has an opened view on Central Park.  

The bedroom has large windows, a queen size bed with 2 night tables, a dressing table a closet and a TV. The bathroom of the bedroom has marble floors with a sink and a mirror, a toilet, and shower in a tub.  

Subway: 5 Avenue/59 Street/60 Street (N, Q, R) and 57 Street/Avenue of Americas (F)


Neighborhood:Midtown Manhattan, or simply Midtown, is an area of Manhattan, New York City home to world-famous commercial zones such as Rockefeller Center, Broadway, and Times Square. Midtown Manhattan is home to the city's tallest and most famous buildings such as the Empire State Building and Chrysler Building. You will found everything in this neighborhood.
Neighbourhood

Station :

5 Avenue/59 Street/60 Street



Nearby services
Availability
Price
| | |
| --- | --- |
| price / month | from 12 months |
| Available until 18-Jul-26 | $7,800 |
Rental period
min 12 months