Studio mobiliado com laundromat in the building, internet WIFI e terraço
(Chelsea), 28 m², locaçao 3 075 $ /mês
Endereço: West 14Th Street, New York (10011), perto da estação de metro 14 Street/7 Avenue (1,2,3)
Chelsea
tamanho aproximado 303 sqf -
1ro andar sem elevador
(303.0 sqf certificados)

14 Street/7 Avenue




Disponível a partir do 01-Jan.-22
# 1512355
Calcular o custo de sua estadia
min 1 mês

This is a fully furnished studio with loft bed located in Chelsea.

The residence features a modern open kitchen equipped with custom cabinetry including a stove, an oven, a dishwasher, a microwave, a refrigerator with a freezer and give a direct access to the living room.
The living room provides two sofas, a flat screen TV, and a piano, and open to a balcony with a great garden view.
A loft queen size bed is above the kitchen, accessible by a ladder from the living room.
The bathroom has a sink, a toilet and a tub.

Transportation:
A, C, E and L trains run at 14th St-8th Av (under 500 feet)
1 train runs at 18th St (0. 2 miles)
F, M, L, 1, 2 and 3 trains run at 14th St (0. 2 miles)
PATH train runs at 14th Street Station (0. 2 miles)


Neighborhood (copy from WIKIPEDIA):
Chelsea is a neighborhood on the West Side of the borough of Manhattan in New York City. The district's boundaries are roughly 14th Street to the south and the Hudson River and West Street to the west, with the northern boundary variously described as 30th Street or 34th Street, and the eastern boundary as either Sixth Avenue or Fifth Avenue. To the north of Chelsea is the neighborhood of Hell's Kitchen, also known as "Clinton", as well as the Hudson Yards; to the northeast is the Garment District; to the east are NoMad and the Flatiron District; to the southwest is the Meatpacking District; and to the southeast is Greenwich Village and the West Village.Ler o resto
Plano interativo
Clicar em um dos cômodos para visualizar as photos correspondentes.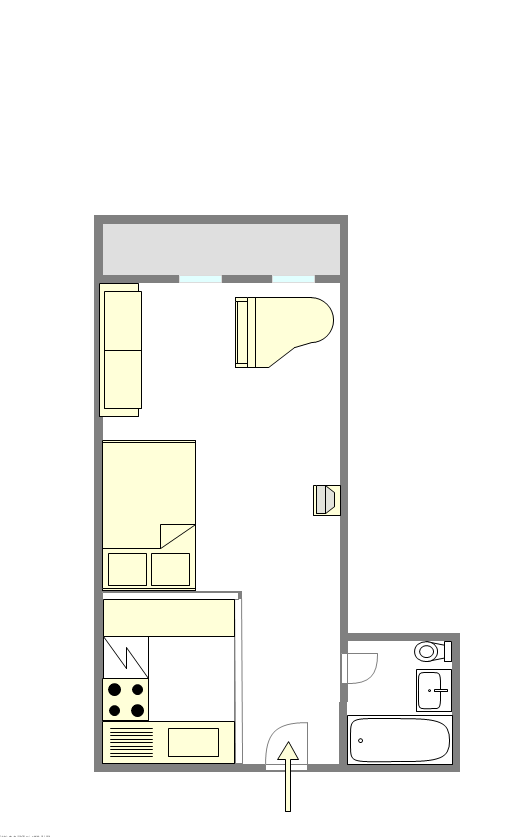 Prédio
Serviços do imovel
Naõ fumador
Animais não são aceites
Ar condicionado
Cabo
Màquina de lavar a loiça
Televisaõ
roupa de cama - Laundromat in the building - Interfone - Internet WIFI
Interfone
This is a fully furnished studio with loft bed located in Chelsea.

The residence features a modern open kitchen equipped with custom cabinetry including a stove, an oven, a dishwasher, a microwave, a refrigerator with a freezer and give a direct access to the living room.
The living room provides two sofas, a flat screen TV, and a piano, and open to a balcony with a great garden view.
A loft queen size bed is above the kitchen, accessible by a ladder from the living room.
The bathroom has a sink, a toilet and a tub.

Transportation:
A, C, E and L trains run at 14th St-8th Av (under 500 feet)
1 train runs at 18th St (0. 2 miles)
F, M, L, 1, 2 and 3 trains run at 14th St (0. 2 miles)
PATH train runs at 14th Street Station (0. 2 miles)


Neighborhood (copy from WIKIPEDIA):
Chelsea is a neighborhood on the West Side of the borough of Manhattan in New York City. The district's boundaries are roughly 14th Street to the south and the Hudson River and West Street to the west, with the northern boundary variously described as 30th Street or 34th Street, and the eastern boundary as either Sixth Avenue or Fifth Avenue. To the north of Chelsea is the neighborhood of Hell's Kitchen, also known as "Clinton", as well as the Hudson Yards; to the northeast is the Garment District; to the east are NoMad and the Flatiron District; to the southwest is the Meatpacking District; and to the southeast is Greenwich Village and the West Village.



Bairro

Estaçao :

14 Street/7 Avenue



Serviços proximos
Disponibilidades
Preço
| | |
| --- | --- |
| Preço / mês | a partir de 1 mês |
| Disponível a partir do 01-Jan.-22 | 2 875 $ * |
Duração do arrendamento
min 1 mês
opiniões (1)





Nota media dos clientes : 4 / 5
Muito Bom (4 / 5)


Ciaran M.