1 bedroom furnished apartment with elevator and terrace
(Forest Hill), 663 sqft, rental $2,500 /month
Address: 112Th Street, Forest Hill (11375), near subway station: Forest Hills
Forest Hill
Floor area 663 sqf -
11st floor elevator
(663.0 sqf certified)

Forest Hills

Available now
# 2Q216484
Calculate your stay price
min 1 month

This is a fully furnished one bedroom/ one bathroom apartment located on the eleventh floor of doorman building with elevator and laundry at Forest Hills, Queens.

The residence features a modern separate kitchen equipped with custom cabinetry, including a stove, an oven, a microwave and a refrigerator with freezing compartment.
The living room offers two sofas, a desk, a shelf and a dining table and six chairs.
The bedroom with hardwood floors and a big closet provides a queen size bed, a dresser and a bed side table.

Transportation:

E, F, M, R trains run at Forest Hills/ 71st.


Neighborhood (description from Wikipedia):

Forest Hills is an affluent neighborhood located in the New York City borough of Queens. Originally, the area was referred to as "Whitepot". Forest Hills is bounded by 62nd Drive, Thornton Place, and Selfridge Street to the west, Metropolitan Avenue to the south, Union Turnpike to the east, and the Grand Central Parkway to the north. Forest Hills Gardens, a place within Forest Hills with many Tudor-style houses, is bounded by Burns Street to the north, Union Turnpike to the east, Greenway South and Harrow Street to the west, and Tennis Place and Continental Ave to the west. Forest Hills and Forest Hills Gardens contains Station Square.Read the following
Interactive plan
Click on one room in order to see the pictures.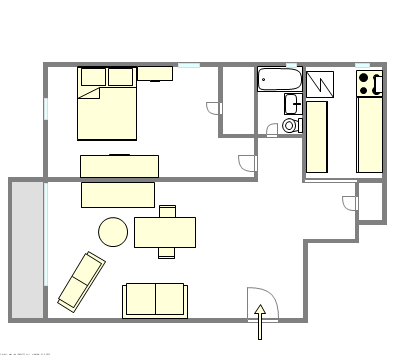 Building
Housing services
Elevator
No smoking
Pets not accepted
Part time doorman - Laundromat in the building
This is a fully furnished one bedroom/ one bathroom apartment located on the eleventh floor of doorman building with elevator and laundry at Forest Hills, Queens.

The residence features a modern separate kitchen equipped with custom cabinetry, including a stove, an oven, a microwave and a refrigerator with freezing compartment.
The living room offers two sofas, a desk, a shelf and a dining table and six chairs.
The bedroom with hardwood floors and a big closet provides a queen size bed, a dresser and a bed side table.

Transportation:

E, F, M, R trains run at Forest Hills/ 71st.


Neighborhood (description from Wikipedia):

Forest Hills is an affluent neighborhood located in the New York City borough of Queens. Originally, the area was referred to as "Whitepot". Forest Hills is bounded by 62nd Drive, Thornton Place, and Selfridge Street to the west, Metropolitan Avenue to the south, Union Turnpike to the east, and the Grand Central Parkway to the north. Forest Hills Gardens, a place within Forest Hills with many Tudor-style houses, is bounded by Burns Street to the north, Union Turnpike to the east, Greenway South and Harrow Street to the west, and Tennis Place and Continental Ave to the west. Forest Hills and Forest Hills Gardens contains Station Square.

Neighbourhood

Station :

Forest Hills
Nearby services
Supermarket - pharmacy - Restaurant
Availability
Price
| | |
| --- | --- |
| price / month | from 1 month |
| Available now | $2,500 |