1 bedroom furnished apartment
(Astoria), 550 sqft, rental
Address: 43Rd Street, Long Island City (11101), near subway station: Steinway Street/Broadway (M,R)
Astoria
Floor area 550 sqf -
2nd floor no elevator
(450.0 sqf certified)

Steinway Street/Broadway



This property has already been rented
# 2Q517684
No agency fees until 01-Jan-70
Calculate your stay price
This is a fully furnished 1BR/1BA apartment located on the third floor of a walk-up building in Astoria.

The residence features a modern kitchen equipped with custom cabinetry, including a stove, an oven, a microwave, a toaster, a coffee maker and a refrigerator with a freezer compartment.

The living room with hard wood floors provides a dining table, a sofa with a beside table and a flat screen TV.

The bedroom offers a double size bed and a dresser.

Transportation:

R train runs at Steinway Street/ Broadway.

Neighborhood (copy from WIKIPEDIA):

Astoria is a middle-class and commercial neighborhood with a population of 154, 000 in the northwestern corner of the New York City borough of Queens. Located in Community Board 1, Astoria is bounded by the East River and is adjacent to three other Queens neighborhoods: Long Island City, Sunnyside (bordering at Northern Boulevard), and Woodside (bordering at 50th Street). Astoria is patrolled by the New York City Police Department's 114th Precinct.Read the following
Interactive plan
Click on one room in order to see the pictures.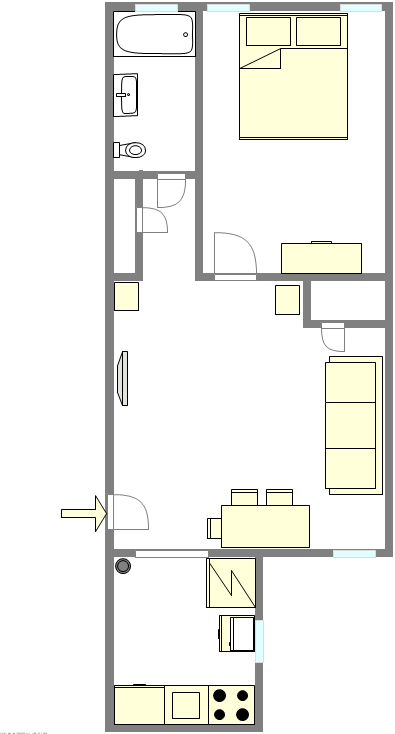 Building
Housing services
No smoking
Pets not accepted
Air conditioning
Internet included
Cable
TV
This is a fully furnished 1BR/1BA apartment located on the third floor of a walk-up building in Astoria.

The residence features a modern kitchen equipped with custom cabinetry, including a stove, an oven, a microwave, a toaster, a coffee maker and a refrigerator with a freezer compartment.

The living room with hard wood floors provides a dining table, a sofa with a beside table and a flat screen TV.

The bedroom offers a double size bed and a dresser.

Transportation:

R train runs at Steinway Street/ Broadway.

Neighborhood (copy from WIKIPEDIA):

Astoria is a middle-class and commercial neighborhood with a population of 154, 000 in the northwestern corner of the New York City borough of Queens. Located in Community Board 1, Astoria is bounded by the East River and is adjacent to three other Queens neighborhoods: Long Island City, Sunnyside (bordering at Northern Boulevard), and Woodside (bordering at 50th Street). Astoria is patrolled by the New York City Police Department's 114th Precinct.
Neighbourhood

Station :

Steinway Street/Broadway


Nearby services
Laundromat - Supermarket - Outdoor market - pharmacy - Restaurant
Availability
Price
This property has already been rented