公寓 带家具 1个房间 East 3Rd Street, New York -
Lower East Side
地上面积316 sqf -
5 楼 电梯
(合法面积316.0 sqf)

2 Avenue/Houston Street


即可入住
# 2635704
计算住宿期间租金
最短租期 12 个月

This is a fully furnished 1BR/ 1BA apartment located in The Lower East Side.

The entrance door opens up into the open kitchen which is fully equipped with a sink, a stove, a refrigerator with a freezing compartment and all cookware and kitchen utensils necessary.

On your right, there is the living room with hardwood floors featuring a sofa, a TV and hifi stereo. There are also 2 windows facing the street.

After the living room, on your right, there is the fully tiled bathroom featuring a shower in tub, a sink, a cabinet and a toilet.

The bedroom is furnished with a queen size bed. There are also 2 windows, 1 dresser, a bedside table, a desk with a computer and 1 closet.

Transportation:

F train runs at 2 Avenue/ Houston Street.

Neighborhood (copy from WIKIPEDIA):

The Lower East Side, sometimes abbreviated as LES, is a neighborhood in the southeastern part of the New York City borough of Manhattan, roughly located between the Bowery and the East River, and Canal Street and Houston Street. Traditionally an immigrant, working-class neighborhood, it began rapid gentrification in the mid-2000s, prompting The National Trust for Historic Preservation to place the neighborhood on their list of America's Most Endangered Places.请阅读以下内容
平面图
请点击以下空间名称以便浏览相关照片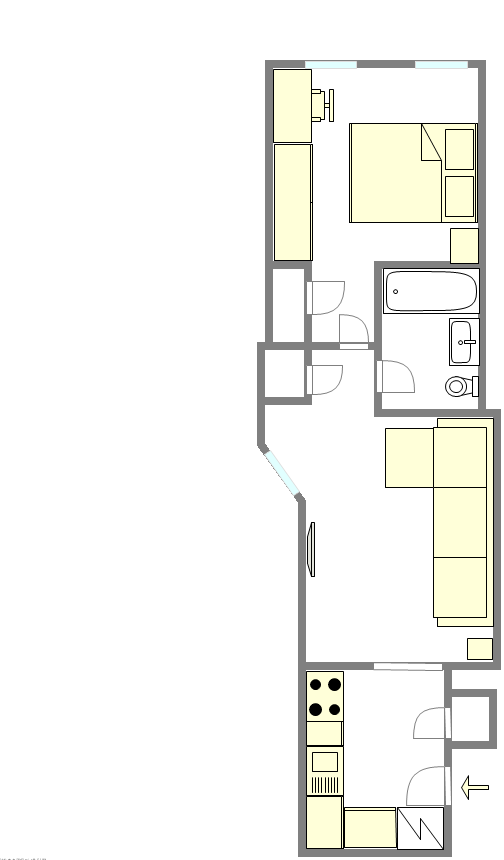 建筑物
室内设施
电梯
禁烟
禁止宠物
有网络
有线电视
电视
音响设备
录像机
DVD
电脑
餐桌用布 - 对讲机
This is a fully furnished 1BR/ 1BA apartment located in The Lower East Side.

The entrance door opens up into the open kitchen which is fully equipped with a sink, a stove, a refrigerator with a freezing compartment and all cookware and kitchen utensils necessary.

On your right, there is the living room with hardwood floors featuring a sofa, a TV and hifi stereo. There are also 2 windows facing the street.

After the living room, on your right, there is the fully tiled bathroom featuring a shower in tub, a sink, a cabinet and a toilet.

The bedroom is furnished with a queen size bed. There are also 2 windows, 1 dresser, a bedside table, a desk with a computer and 1 closet.

Transportation:

F train runs at 2 Avenue/ Houston Street.

Neighborhood (copy from WIKIPEDIA):

The Lower East Side, sometimes abbreviated as LES, is a neighborhood in the southeastern part of the New York City borough of Manhattan, roughly located between the Bowery and the East River, and Canal Street and Houston Street. Traditionally an immigrant, working-class neighborhood, it began rapid gentrification in the mid-2000s, prompting The National Trust for Historic Preservation to place the neighborhood on their list of America's Most Endangered Places.

周边环境

车站 :

2 Avenue/Houston Street

周边环境
网络咖啡店 - 超市 - 餐厅
是否可出租
价格
| | |
| --- | --- |
| 价格 / 月 | 至少 12 个月 |
| 即可入住 | $3,200 |