2 bedroom furnished apartment with pets accepted
(East Village), 550 sqft, rental $4,484 /month
Address: East 7Th Street, New York (10003), near subway station: 8 Street/Astor Place/4 Avenue (6)
East Village
Floor area 550 sqf -
3rd floor no elevator

8 Street/Astor Place/4 Avenue


Available now
# 36210885
Calculate your stay price
min 12 months

This 2 Bedroom/1 Bathroom apartment is located on the third floor of a walk-up building on East 7th Street, between 1st and 2nd Avenue - EAST VILLAGE.


The apartment :

The entrance door opens into the kitchen which is equipped with an oven, a microwave oven, a stove, a refrigerator with freezer and all the cookware necessary.

The living room is accessible through french doors and it has wood floors and two windows overlooking the backyard. It is equipped with a full size sofabed and a TV.

Both bedrooms have carpeting floors, a double size bed and a closet. The first room overlooks a shaft, and the second bedroom faces the backyard.

The tiled bathroom has a shower in a tub, a sink and a toilet.


Location :

The area is surrounded by many train stations : Astor Place (6 train), 8th street NYU (N, R), 2nd Avenue/East Houston Street (F) then 1st Avenue/14th street (L)


Neighborhood :

The East Village is a neighborhood in the borough of Manhattan in New York City, lying east of Greenwich Village, south of Gramercy and Stuyvesant Town, and north of the Lower East Side. The area was once generally considered to be part of the Lower East Side, but began to develop its own identity and culture in the 1960s, when many artists, musicians, students and hippies began to move into the area, attracted by cheap rents and the base of Beatniks who had lived there since the 1950s. The neighborhood has become a center of the counterculture in New York, and is known as the birthplace and historical home of many artistic movements, including punk rock and the Nuyorican literary movement.Read the following
Interactive plan
Click on one room in order to see the pictures.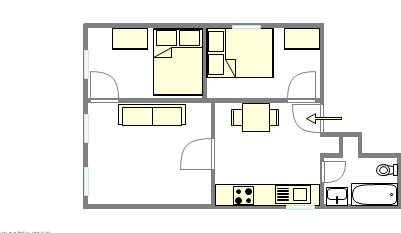 Building
Housing services
No smoking
Pets accepted
Air conditioning
Internet included
Cable
TV
Intercom
This 2 Bedroom/1 Bathroom apartment is located on the third floor of a walk-up building on East 7th Street, between 1st and 2nd Avenue - EAST VILLAGE.


The apartment :

The entrance door opens into the kitchen which is equipped with an oven, a microwave oven, a stove, a refrigerator with freezer and all the cookware necessary.

The living room is accessible through french doors and it has wood floors and two windows overlooking the backyard. It is equipped with a full size sofabed and a TV.

Both bedrooms have carpeting floors, a double size bed and a closet. The first room overlooks a shaft, and the second bedroom faces the backyard.

The tiled bathroom has a shower in a tub, a sink and a toilet.


Location :

The area is surrounded by many train stations : Astor Place (6 train), 8th street NYU (N, R), 2nd Avenue/East Houston Street (F) then 1st Avenue/14th street (L)


Neighborhood :

The East Village is a neighborhood in the borough of Manhattan in New York City, lying east of Greenwich Village, south of Gramercy and Stuyvesant Town, and north of the Lower East Side. The area was once generally considered to be part of the Lower East Side, but began to develop its own identity and culture in the 1960s, when many artists, musicians, students and hippies began to move into the area, attracted by cheap rents and the base of Beatniks who had lived there since the 1950s. The neighborhood has become a center of the counterculture in New York, and is known as the birthplace and historical home of many artistic movements, including punk rock and the Nuyorican literary movement.
Neighbourhood

Station :

8 Street/Astor Place/4 Avenue

Nearby services
Supermarket - Park - Bakery - Restaurant
Availability
Price
| | |
| --- | --- |
| price / month | from 12 months |
| Available now | $4,484 |
Rental period
min 12 months
reviews (2)





Clients' average rating : 4.5 / 5
Very good (4 / 5)


Cécile H. (France)

Excellent (5 / 5)
The apartment was everything I expected - small NYC deal, but you get what you pay for. There were also great unexpected amenities like the foldout couch and nice kitchen.

Erik B. (USA)