Furnished studio
(Little Italy), 1000 sqft, rental $6,000 /month
Address: Broome Street, New York (10002), near subway station: Grand Street/Chrystie Street (B,D)
Little Italy
Floor area 1000 sqf -
2nd floor no elevator

Grand Street/Chrystie Street



Available from 01-Jan-24
# 16411202
Calculate your stay price
min 1 month

MINIMUM STAY 1 MONTH
This loft is situated on the 2nd floor of a walk-up building located on Broome street between Bowery and Chrystie street - NOLITA


IT IS ABOUT 1000 SQF, HARDWOOD FLOORS, HAND CRAFTED FURNITURE / FULLY FURNISHED AND EQUIPPED :

o QUEEN SIZE BED
o SOFA
o HAND CRAFTED COFFEE TABLE
o HAND CRAFTED LARGE DINING TABLE
o DRESSER & RACK
o FULLY EQUIPPED KITCHEN WITH FRIDGE, TOASTER, OVEN, COFFEE MAKER AND COOKING RANGE
o RENOVATED BATHROOM
o WI-FI ACCESS
o 46" LCD TV WITH CABLE TV (50 CHANNELS)
o AIR CONDITIONING
o SHEETS AND TOWELS PROVIDED



ABOUT THE NEIGHBORHOOD :

The neighborhood was long regarded as part of Little Italy, but has lost much of its recognizable Italian character in recent decades because of the migration of Italian-Americans out of Manhattan. Many elderly descendants of Italian immigrants continue to live in the neighborhood. Moreover, the Feast of San Gennaro, dedicated to Saint Januarius ("pope of Naples"), is held in the neighborhood every year following Labor Day, on Mulberry Street between Houston and Grand Streets. The feast, as recreated on Elizabeth Street between Prince and Houston, was featured in the film Godfather III.

The neighborhood includes St. Patrick's Old Cathedral, at the intersection of Mulberry, Mott and Prince Streets, which opened in 1815 and was rebuilt in 1868 after a fire. The cornerstone was laid on June 8, 1809. This building served as New York City's Roman Catholic cathedral until the new St. Patrick's Cathedral was opened on Fifth Avenue in Midtown in 1879. St. Patrick's Old Cathedral is now a parish church. In 2010, St. Patrick's Old Cathedral was honored and became The Basilica at St. Patrick's Old Cathedral. Another neighborhood landmark is the Puck Building, an ornate structure built in 1885 on the corner of Houston and Lafayette Streets, which originally housed the headquarters of the now-defunct Puck Magazine.Read the following
Interactive plan
Click on one room in order to see the pictures.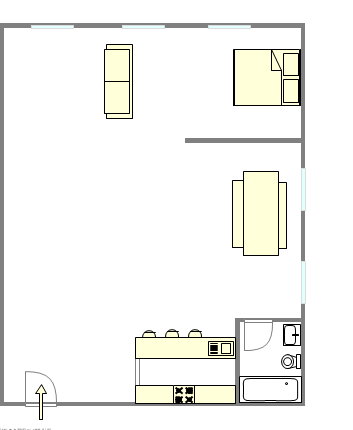 Housing services
No smoking
Pets not accepted
Air conditioning
Internet included
Cable
TV
MINIMUM STAY 1 MONTH
This loft is situated on the 2nd floor of a walk-up building located on Broome street between Bowery and Chrystie street - NOLITA


IT IS ABOUT 1000 SQF, HARDWOOD FLOORS, HAND CRAFTED FURNITURE / FULLY FURNISHED AND EQUIPPED :

o QUEEN SIZE BED
o SOFA
o HAND CRAFTED COFFEE TABLE
o HAND CRAFTED LARGE DINING TABLE
o DRESSER & RACK
o FULLY EQUIPPED KITCHEN WITH FRIDGE, TOASTER, OVEN, COFFEE MAKER AND COOKING RANGE
o RENOVATED BATHROOM
o WI-FI ACCESS
o 46" LCD TV WITH CABLE TV (50 CHANNELS)
o AIR CONDITIONING
o SHEETS AND TOWELS PROVIDED



ABOUT THE NEIGHBORHOOD :

The neighborhood was long regarded as part of Little Italy, but has lost much of its recognizable Italian character in recent decades because of the migration of Italian-Americans out of Manhattan. Many elderly descendants of Italian immigrants continue to live in the neighborhood. Moreover, the Feast of San Gennaro, dedicated to Saint Januarius ("pope of Naples"), is held in the neighborhood every year following Labor Day, on Mulberry Street between Houston and Grand Streets. The feast, as recreated on Elizabeth Street between Prince and Houston, was featured in the film Godfather III.

The neighborhood includes St. Patrick's Old Cathedral, at the intersection of Mulberry, Mott and Prince Streets, which opened in 1815 and was rebuilt in 1868 after a fire. The cornerstone was laid on June 8, 1809. This building served as New York City's Roman Catholic cathedral until the new St. Patrick's Cathedral was opened on Fifth Avenue in Midtown in 1879. St. Patrick's Old Cathedral is now a parish church. In 2010, St. Patrick's Old Cathedral was honored and became The Basilica at St. Patrick's Old Cathedral. Another neighborhood landmark is the Puck Building, an ornate structure built in 1885 on the corner of Houston and Lafayette Streets, which originally housed the headquarters of the now-defunct Puck Magazine.
Neighbourhood

Station :

Grand Street/Chrystie Street


Nearby services
Supermarket - Park - Bakery
Availability
Price
| | |
| --- | --- |
| price / month | from 1 month |
| Available from 01-Jan-24 | $6,000 |