1 bedroom furnished apartment
(Clinton), 300 sqft, rental
Address: West 45Th Street, New York (10036), near subway station: 42 Street/8 Avenue (A,C,E)
Clinton
Floor area 300 sqf -
2nd floor no elevator

42 Street/8 Avenue



This property has already been rented
# 23111492
Calculate your stay price
This is a fully furnished one bedroom apartment located on the second floor of a walk-up building on 45th Street, between 8th and 9th Avenue.

The entrance door opens up into the kitchen that is equipped with a stove, a sink, a dining table and a refrigerator with freezing compartment. The separated shower is also located in the kitchen area.

The living room is furnished with a double size futon, a coffee table and a TV. It has wood floors and windows overlooking the back of the building.

The bedroom is furnished with a double size bed and a closet. It has wood floors and a window overlooking the wall of the neighboring building. This room gives access to a bathroom with a sink and a toilet.

Transportation

A, C, E trains are on 42nd Street/8th Avenue
N, Q, R trains are on 49th Street/7th Avenue
B, D, F, M re on 47th Street/6th Avenue
7 train is on 41st Street/7th Avenue

Neighborhood:

Cli- nton is a neighborhood of Manhattan in New York City between 34th Street and 59th Street, from 8th Avenue to the Hudson River. The area provides transportation, hospital and warehouse infrastructure support to the Midtown Manhattan business district. Clinton's wide, tree-lined streets are a popular and safe place to live.Read the following
Interactive plan
Click on one room in order to see the pictures.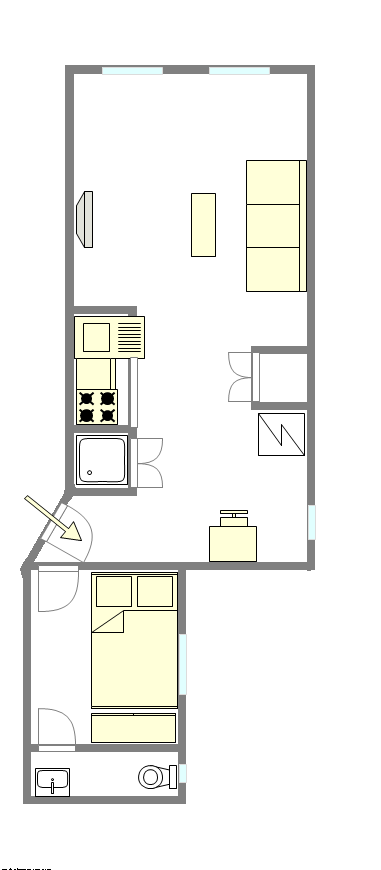 Building
Housing services
No smoking
Pets not accepted
Internet included
Cable
TV
Intercom
This is a fully furnished one bedroom apartment located on the second floor of a walk-up building on 45th Street, between 8th and 9th Avenue.

The entrance door opens up into the kitchen that is equipped with a stove, a sink, a dining table and a refrigerator with freezing compartment. The separated shower is also located in the kitchen area.

The living room is furnished with a double size futon, a coffee table and a TV. It has wood floors and windows overlooking the back of the building.

The bedroom is furnished with a double size bed and a closet. It has wood floors and a window overlooking the wall of the neighboring building. This room gives access to a bathroom with a sink and a toilet.

Transportation

A, C, E trains are on 42nd Street/8th Avenue
N, Q, R trains are on 49th Street/7th Avenue
B, D, F, M re on 47th Street/6th Avenue
7 train is on 41st Street/7th Avenue

Neighborhood:

Cli- nton is a neighborhood of Manhattan in New York City between 34th Street and 59th Street, from 8th Avenue to the Hudson River. The area provides transportation, hospital and warehouse infrastructure support to the Midtown Manhattan business district. Clinton's wide, tree-lined streets are a popular and safe place to live.

Neighbourhood

Station :

42 Street/8 Avenue


Nearby services
Supermarket - Restaurant
Availability
Price
This property has already been rented
reviews (2)





Clients' average rating : 2.5 / 5
Good (3 / 5)


Fabrice F. (France)

Not bad (2 / 5)
Basic

Giulia F. (Italia)