3 bedroom furnished apartment with wIFI Only, terrace and garden
(Bedford Stuyvesant), 1086 sqft, rental $3,510 /month
Address: Putnam Avenue, Brooklyn (11221), near subway station: Kingston Avenue/Throop Avenue/Fulton Street (C)
Bedford Stuyvesant
Floor area 1086 sqf -
1st Floor no elevator

Kingston Avenue/Throop Avenue/Fulton Street


Available now
# 4BT13943
Calculate your stay price
min 1 month max 12 months

This 3 bedrooms apartment in Bed-Stuy Brooklyn (the neighborhood that brought you Jay-Z, Lil' Kim, The Notorious B. I. G. , Big Daddy Kane, Mos Def, and was home to the first Black American Major League Baseball player, the legendary Jackie Robinson) offers spacious, modern living in a historically rich and diverse but tranquil neighborhood packed with beautiful brownstones on tree lined streets.
The apartment is located on the ground floor of a brownstone. one bath and access to the shared garden. Please note, the garden itself has not been landscaped yet but there is a shared outdoor deck up stairs you should feel welcome to use for hanging out and BBQing.
You enter the apartment into the living room that offers a double size futon, a closet and a coffee table. The open kitchen is equipped with a stove, an oven, a microwave, a dining table and a refrigerator with freezing compartment.
The first and second bedrooms are both furnished with queen size beds, and the third bedroom offers a double size convertible futon. All three bedrooms have closets. The bathroom has a shower in a tub, a toilet and a sink.

Transportation:

A and C trains run at Kingston Throop Avenue.
15 mins to financial district/Statue of Liberty Ferry, 40 mins to mid-town/Times Sq.Read the following
Interactive plan
Click on one room in order to see the pictures.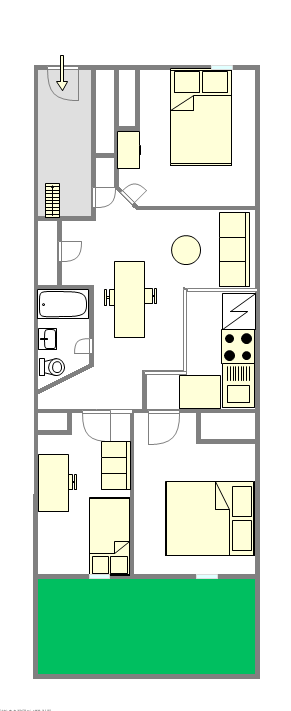 Building
Housing services
No smoking
Pets not accepted
Air conditioning
Internet included
WIFI Only
Laundromat in the building
This 3 bedrooms apartment in Bed-Stuy Brooklyn (the neighborhood that brought you Jay-Z, Lil' Kim, The Notorious B. I. G. , Big Daddy Kane, Mos Def, and was home to the first Black American Major League Baseball player, the legendary Jackie Robinson) offers spacious, modern living in a historically rich and diverse but tranquil neighborhood packed with beautiful brownstones on tree lined streets.
The apartment is located on the ground floor of a brownstone. one bath and access to the shared garden. Please note, the garden itself has not been landscaped yet but there is a shared outdoor deck up stairs you should feel welcome to use for hanging out and BBQing.
You enter the apartment into the living room that offers a double size futon, a closet and a coffee table. The open kitchen is equipped with a stove, an oven, a microwave, a dining table and a refrigerator with freezing compartment.
The first and second bedrooms are both furnished with queen size beds, and the third bedroom offers a double size convertible futon. All three bedrooms have closets. The bathroom has a shower in a tub, a toilet and a sink.

Transportation:

A and C trains run at Kingston Throop Avenue.
15 mins to financial district/Statue of Liberty Ferry, 40 mins to mid-town/Times Sq.




Neighbourhood

Station :

Kingston Avenue/Throop Avenue/Fulton Street

Nearby services
Availability
Price
| | |
| --- | --- |
| price / month | from 1 to 12 months |
| Available now | $3,510 |
Rental period
min 1 month max 12 months