Furnished studio with wIFI Only
(Bushwick), 295 sqft, rental $1,900 /month
Address: Stanhope Street, Brooklyn (11221), near subway station: Central Avenue/Myrtle Avenue (M)
Bushwick
Floor area 295 sqf -
1st Floor no elevator
(295.0 sqf certified)

Central Avenue/Myrtle Avenue


Available now
# 1D216806
No agency fees until 01-Jan-70
Calculate your stay price
min 1 month

Located in Bushwick, this fully furnished studio standing on the first floor of a townhouse just 2 blocks away from shops , restaurants and cafes.

This studio apartment has been transformed into a 1BR featuring a private bedroom but NO LIVINGROOM!!!
The furniture includes a queen size bedroom with its bedside table, an armchair, a desk and its deskchair, a TV and closets.
The tiled kitchen features a refrigerator, a freezer, an oven, a microwave oven, and all the essentials.


Transportation:
M at Central Av 0. 2 miles
J at Kosciusko St 0. 4 miles
L at DeKalb Av 0. 5 miles

Neighborhood:
Bushwick is now an up and coming neighborhood. Bushwick was first known for its lucrative brewery industry in the 1900s, due to its German immigrant population. As the breweries went out of business and the population vacated the neighborhood, crime flourished –Bushwick was often compared to a war zone. Today, tightknit Latino and artist communities inhabit the neighborhood. Converted warehouses and lofts dominate Bushwick real estate but condo conversions and new developments are under way. Although Starbucks and other popular chain stores aren't in the neighborhood, commercial areas are developing. Knock-off fast food restaurants neighbor unpretentious art galleries and churches. Vermin and bedbugs are unresolved problems for residents in many older buildings.Read the following
Interactive plan
Click on one room in order to see the pictures.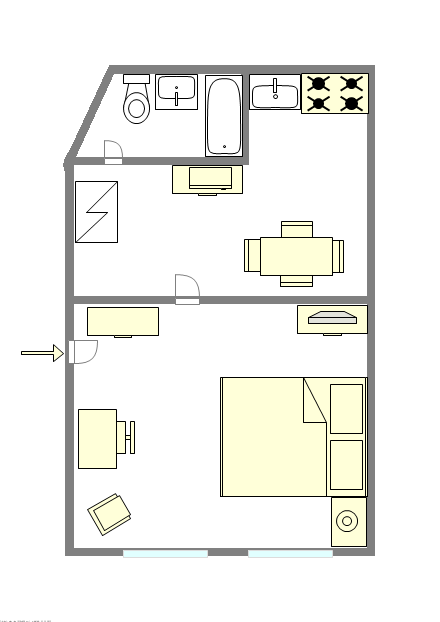 Building
Housing services
No smoking
Pets not accepted
Air conditioning
Cable
TV
HI-FI Stereo
Linen - WIFI Only
Located in Bushwick, this fully furnished studio standing on the first floor of a townhouse just 2 blocks away from shops , restaurants and cafes.

This studio apartment has been transformed into a 1BR featuring a private bedroom but NO LIVINGROOM!!!
The furniture includes a queen size bedroom with its bedside table, an armchair, a desk and its deskchair, a TV and closets.
The tiled kitchen features a refrigerator, a freezer, an oven, a microwave oven, and all the essentials.


Transportation:
M at Central Av 0. 2 miles
J at Kosciusko St 0. 4 miles
L at DeKalb Av 0. 5 miles

Neighborhood:
Bushwick is now an up and coming neighborhood. Bushwick was first known for its lucrative brewery industry in the 1900s, due to its German immigrant population. As the breweries went out of business and the population vacated the neighborhood, crime flourished –Bushwick was often compared to a war zone. Today, tightknit Latino and artist communities inhabit the neighborhood. Converted warehouses and lofts dominate Bushwick real estate but condo conversions and new developments are under way. Although Starbucks and other popular chain stores aren't in the neighborhood, commercial areas are developing. Knock-off fast food restaurants neighbor unpretentious art galleries and churches. Vermin and bedbugs are unresolved problems for residents in many older buildings.
Neighbourhood

Station :

Central Avenue/Myrtle Avenue

Nearby services
pharmacy
Availability
Price
| | |
| --- | --- |
| price / month | from 1 month |
| Available now | $1,900 |