3 bedroom furnished apartment with washing machine, wIFI Only and terrace
(Bedford Stuyvesant), 1577 sqft, rental $4,200 /month
Address: Howard Avenue, Brooklyn (11233), near subway station: Ralph Avenue/Fulton Street (C)
Bedford Stuyvesant
Floor area 1577 sqf -
1st Floor no elevator
(1577.0 sqf certified)

Ralph Avenue/Fulton Street


Available now
# 4BT17288
Calculate your stay price
min 12 months max 13 months

This is a fully furnished 3BR/2BA apartment with a terrass located in Bedford Stuyvest.

The colorful living room with hard wood floors and exposed bricks walls offers a sofa and two armchairs, a cofee table and a flat screen Tv on the wall, a bedside table and a large closet.
The opened kitchen has all the necessities including a diswasher, an oven and a microwave and stoves. it has also a large refrigerator with a freezer compartment.
The bathroom, fully covered by beautiful mosaic walls, includes a washing machine and a dryer, a double sink in concrete under a large mirror. It includes also a large shower.
The first bedroom, half covered by a warm bricks wall, has a double bed, two bedside tables and a closet.
The second bedroom has a double bed and includes a big closet.
The third bedroom has a double bed, a closet and offers its own bathroom which include a toilet, a sink and a shower.
The apartment offers a private terass as a rooftop, with a view on Manhattan, including a sofa, two arm chairs, a dinning table with 6 chairs, and an electric barbecue.

Transportation:
C train runs at Ralph Av (0. 2 miles)
J train runs at Halsey St (0. 4 miles)
J and Z trains run at Chauncey St (0. 5 miles)


Neighborhood (copy from WIKIPEDIA):

Bedford–Stuyv- esant is a neighborhood of 153, 000 inhabitants in the north central portion of the New York City borough of Brooklyn.
Bedford–Stuyvesant is bordered by Flushing Avenue to the north (bordering Williamsburg), Classon Avenue to the west (bordering Clinton Hill), Broadway to the east (bordering Bushwick), and Atlantic Avenue to the south (bordering Crown Heights and Brownsville).Read the following
Interactive plan
Click on one room in order to see the pictures.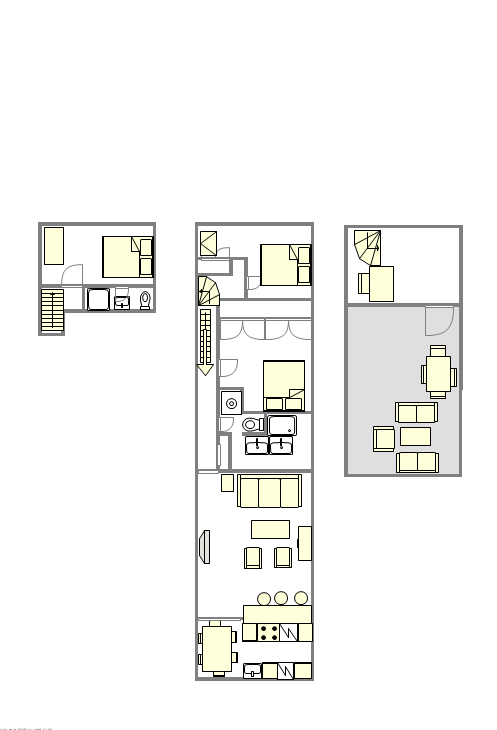 Building
Housing services
No smoking
Pets not accepted
Air conditioning
Internet included
Washing machine
Dryer
Dishwasher
TV
WIFI Only
This is a fully furnished 3BR/2BA apartment with a terrass located in Bedford Stuyvest.

The colorful living room with hard wood floors and exposed bricks walls offers a sofa and two armchairs, a cofee table and a flat screen Tv on the wall, a bedside table and a large closet.
The opened kitchen has all the necessities including a diswasher, an oven and a microwave and stoves. it has also a large refrigerator with a freezer compartment.
The bathroom, fully covered by beautiful mosaic walls, includes a washing machine and a dryer, a double sink in concrete under a large mirror. It includes also a large shower.
The first bedroom, half covered by a warm bricks wall, has a double bed, two bedside tables and a closet.
The second bedroom has a double bed and includes a big closet.
The third bedroom has a double bed, a closet and offers its own bathroom which include a toilet, a sink and a shower.
The apartment offers a private terass as a rooftop, with a view on Manhattan, including a sofa, two arm chairs, a dinning table with 6 chairs, and an electric barbecue.

Transportation:
C train runs at Ralph Av (0. 2 miles)
J train runs at Halsey St (0. 4 miles)
J and Z trains run at Chauncey St (0. 5 miles)


Neighborhood (copy from WIKIPEDIA):

Bedford–Stuyv- esant is a neighborhood of 153, 000 inhabitants in the north central portion of the New York City borough of Brooklyn.
Bedford–Stuyvesant is bordered by Flushing Avenue to the north (bordering Williamsburg), Classon Avenue to the west (bordering Clinton Hill), Broadway to the east (bordering Bushwick), and Atlantic Avenue to the south (bordering Crown Heights and Brownsville).
Neighbourhood

Station :

Ralph Avenue/Fulton Street

Nearby services
Supermarket - Restaurant
Availability
Price
| | |
| --- | --- |
| price / month | from 12 to 13 months |
| Available now | $4,200 |
Rental period
min 12 months max 13 months