Furnished studio with elevator, doorman and laundromat in the building
(Financial District), 440 sqft, rental $3,565 /month
Address: West Street, New York (10004), near subway station: Bowling Green/Broadway (4,5)
Financial District
Floor area 440 sqf -
16th floor elevator
(350.0 sqf certified)

Bowling Green/Broadway



Available now
# 1715769
No agency fees until 01-Jan-70
Calculate your stay price
min 3 months

between Greenwich Street and Rector Street

Modern apartment on the 16th floor of a luxury art deco building overlooking the Hudson river and only two blocks from the subway. This building was the former 'Downtown Athletics Club' of New York and was sympathetically restored a couple of years ago and developed into apartments. Original features have been retained and in line with the buildings original use, a first class gym.

Facilities include:

24hr Concierge and doorman

Gymnasium (12, 000 sq ft of machines for cardio vascular training and resistance training, free weights area, seperate fitness studio, steam room and spa.

Private members lounge with billiard table, large sun deck and wireless internet.

Media theatre with projector screen and surround sound. Residents movie nights.

In house modern laundry room with flat screen tv.

In house valet and maid facilities available.

The apartment comprises of:

Spacious studio room with views towards Liberty Island, the Hudson River and Jersey City.

Modern furniture including Queen size bed, large sofa which corverts to an additional bed and lots of storage.

LCD TV and multi region DVD player.

All inclusive cable tv, wireless broadband internet and free phone package.

Maple hardwood floors throughout.

Marble bathroom with bath tub.

Fully fitted kitchen with granite worktops, stainless steel appliances, dishwasher, microwave and full size fridge/freezer and oven.

Complete with bedding, towels & kitchen utensils.Read the following
Interactive plan
Click on one room in order to see the pictures.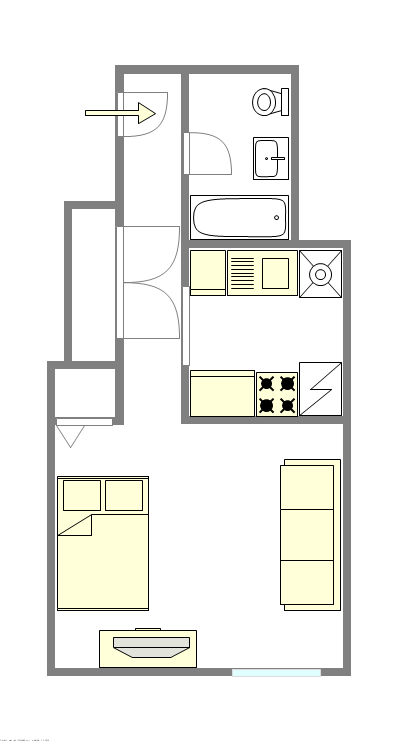 Building
Housing services
Elevator
No smoking
Pets not accepted
Air conditioning
Internet included
Cable
Dishwasher
TV
Doorman - Linen - Laundromat in the building - Concierge
Condo - Doorman - Laundromat in the building - Concierge
between Greenwich Street and Rector Street

Modern apartment on the 16th floor of a luxury art deco building overlooking the Hudson river and only two blocks from the subway. This building was the former 'Downtown Athletics Club' of New York and was sympathetically restored a couple of years ago and developed into apartments. Original features have been retained and in line with the buildings original use, a first class gym.

Facilities include:

24hr Concierge and doorman

Gymnasium (12, 000 sq ft of machines for cardio vascular training and resistance training, free weights area, seperate fitness studio, steam room and spa.

Private members lounge with billiard table, large sun deck and wireless internet.

Media theatre with projector screen and surround sound. Residents movie nights.

In house modern laundry room with flat screen tv.

In house valet and maid facilities available.

The apartment comprises of:

Spacious studio room with views towards Liberty Island, the Hudson River and Jersey City.

Modern furniture including Queen size bed, large sofa which corverts to an additional bed and lots of storage.

LCD TV and multi region DVD player.

All inclusive cable tv, wireless broadband internet and free phone package.

Maple hardwood floors throughout.

Marble bathroom with bath tub.

Fully fitted kitchen with granite worktops, stainless steel appliances, dishwasher, microwave and full size fridge/freezer and oven.

Complete with bedding, towels & kitchen utensils.
Neighbourhood

Station :

Bowling Green/Broadway


Nearby services
Supermarket - Park - Bakery - pharmacy - Restaurant
Availability
Price
| | |
| --- | --- |
| price / month | from 3 months |
| Available now | $3,565 |
Rental period
min 3 months
reviews (3)





Clients' average rating : 4.3 / 5
Very good (4 / 5)


. S. (Italia)

Excellent (5 / 5)


Yosef B. (Denmark)

Very good (4 / 5)


Thomas V. (France)