4 bedroom furnished apartment
(Prospect Heights), 1162 sqft, rental $6,325 /month
Address: Underhill Avenue, Brooklyn (11238), near subway station: Grand Army Plaza/Prospect Park/Flatbush Avenue (2,3)
Prospect Heights
Floor area 1162 sqf -
2nd floor no elevator
(1162.0 sqf certified)

Grand Army Plaza/Prospect Park/Flatbush Avenue



Available now
# 5BJ7424
No agency fees until 07-Jun-29
Calculate your stay price
min 1 month

MINIMUM STAY 1 MONTH



This is a fully furnished 4 bedroom / 2 bathroom apartment.



This apartment is located on the second floor of a new building, between Prospect Place and St Marks Avenue.



The entrance leads to the living room, very spacious and bright. It is furnished with many armchairs, a big sofa, a dinning table, and a TV. This room can easily welcome up to 8 people.
The kitchen, accessible from the living room, is also fully furnished, with dishes, silverware, pots & pans, stove/oven, dishwasher, microwave, coffee maker, toaster, fridge/freezer.
There are 4 bedrooms: each of them, except one, has a window. The other one has a ceiling fan.
Two queen size beds, two double size beds.
There are 2 bathrooms, one is ensuite from the master bedroom. Each bathroom has a bathtub with shower, a sink and a toilet.
Linens, towels, hair dryer, iron & ironing board included.


The apartment is very clean. A weekly cleaning person is included.
Gas, electric, heat, hot water, wifi internet, TV with DVR are included.
Access to washer/dryer and treadmill in basement are included.



Transportation:
B/Q subway yellow/orange line @ Seventh Avenue (3 blocks)
2/3 subway red line @ Grand Army Plaza (4 blocks)
C subway blue line @ Clinton Washington (6 blocks)



Neighborhood : The apartment is located in a friendly district, with a playground one block away, and the enormous Prospect Park 5 blocks away.
Supermarkets, restaurants, bars, shops, ATM, laundry are nearby.

Prospect Heights is a neighborhood in the northwest of the New York City borough of Brooklyn. It is bounded by Flatbush Avenue to the west, Atlantic Avenue to the north, Eastern Parkway to the south, and, Washington Avenue to the east, at the end of Prospect Hill. In its northern section are the Vanderbilt Railyards, which could become part of the massive and controversial Atlantic Yards project.



Compared to other Brooklyn neighborhoods, Prospect Heights is relatively small and is notable for its cultural diversity as well as its tree-lined streets. Prospect Heights has seen rapidly demographic changes over the last decade, and its shifts are exemplified by a mixture of older buildings under reconstruction, rows of classic 1890s brownstones, and newly built luxury condos.Read the following
Interactive plan
Click on one room in order to see the pictures.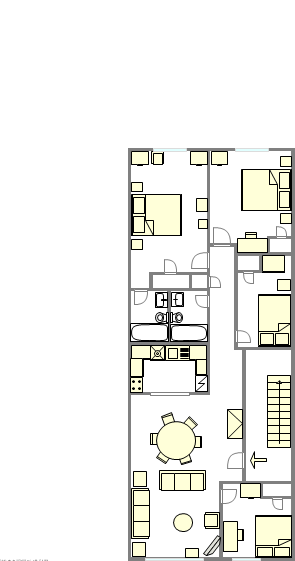 Building
Housing services
No smoking
Pets not accepted
Air conditioning
Internet included
TV
HI-FI Stereo
DVD Player
Linen
Laundromat in the building
MINIMUM STAY 1 MONTH



This is a fully furnished 4 bedroom / 2 bathroom apartment.



This apartment is located on the second floor of a new building, between Prospect Place and St Marks Avenue.



The entrance leads to the living room, very spacious and bright. It is furnished with many armchairs, a big sofa, a dinning table, and a TV. This room can easily welcome up to 8 people.
The kitchen, accessible from the living room, is also fully furnished, with dishes, silverware, pots & pans, stove/oven, dishwasher, microwave, coffee maker, toaster, fridge/freezer.
There are 4 bedrooms: each of them, except one, has a window. The other one has a ceiling fan.
Two queen size beds, two double size beds.
There are 2 bathrooms, one is ensuite from the master bedroom. Each bathroom has a bathtub with shower, a sink and a toilet.
Linens, towels, hair dryer, iron & ironing board included.


The apartment is very clean. A weekly cleaning person is included.
Gas, electric, heat, hot water, wifi internet, TV with DVR are included.
Access to washer/dryer and treadmill in basement are included.



Transportation:
B/Q subway yellow/orange line @ Seventh Avenue (3 blocks)
2/3 subway red line @ Grand Army Plaza (4 blocks)
C subway blue line @ Clinton Washington (6 blocks)



Neighborhood : The apartment is located in a friendly district, with a playground one block away, and the enormous Prospect Park 5 blocks away.
Supermarkets, restaurants, bars, shops, ATM, laundry are nearby.

Prospect Heights is a neighborhood in the northwest of the New York City borough of Brooklyn. It is bounded by Flatbush Avenue to the west, Atlantic Avenue to the north, Eastern Parkway to the south, and, Washington Avenue to the east, at the end of Prospect Hill. In its northern section are the Vanderbilt Railyards, which could become part of the massive and controversial Atlantic Yards project.



Compared to other Brooklyn neighborhoods, Prospect Heights is relatively small and is notable for its cultural diversity as well as its tree-lined streets. Prospect Heights has seen rapidly demographic changes over the last decade, and its shifts are exemplified by a mixture of older buildings under reconstruction, rows of classic 1890s brownstones, and newly built luxury condos.
Neighbourhood

Station :

Grand Army Plaza/Prospect Park/Flatbush Avenue


Nearby services
Park - Bakery - Restaurant
Availability
Price
| | |
| --- | --- |
| price / month | from 1 month |
| Available now | $6,325 |