1 bedroom furnished apartment with garden
(Hamilton Heights), 592 sqft, rental $2,875 /month
Address: West 142Nd Street, New York (10031), near subway station: 145 Street/Broadway (1)
Hamilton Heights
Floor area 592 sqf -
1st Floor no elevator

145 Street/Broadway


Available now
# 2869134
No agency fees until 01-Jan-70
Calculate your stay price
min 1 month

This apartment is located on 142nd Street between Broadway and Hamilton Place. This One bedroom/ One bath Garden apartment has hardwood floors throughout the premises and is on the first floor of a townhouse.

The entrance door opens up into the living room which features a leather sofa, a fireplace, a table and two windows.

Two doors give access to the separate and fully equipped kitchen with a stove, an oven, a sink, a refrigerator with freezing compartment and a dining table with two chairs.

The bedroom in the back, features a Queen size bed, a chair, a large closet and two lamps. There is an access to the private garden where you can find a dining table and two chairs.

The fully tiled bathroom is accessible through the bedroom. It features a shower in tub, a sink, shelves with towels and a toilet and a window.

Transportation:

The A and D trains runs under St. Nicholas Avenue providing service at 145th Street. The C shares stations with the A, train services 135th, 145th, and 155th streets. The B shares stations with the D, train services 135th, 145th, and 155th streets. The MTA-New York City Transit bus lines M4 and M5 serve Broadway, M100 and M101 run on Amsterdam Avenue, M18 on Convent Avenue; M11 on 135th Street; Bx19 on 145th Street; Bx6 on 155th Street and the M3 on St. Nicholas Avenue.

Neighborhood :

Hamilton Heights is a neighborhood in the New York City borough of Manhattan. It lies between Morningside Heights to the south and Washington Heights to the north. It is the most westerly part of Harlem. . It contains the neighborhood of Sugar Hill.
Supermarket, pharmacy, bank, laundromat are near the appartement,
Also, Hamilton Heights is the home of City College of New York (CCNY), Dance Theatre of Harlem, The Harlem School of the Arts and Aaron Davis Hall.

The neighborhood offers several parks, including the recently built Riverbank State Park, embedded in Riverside Park which runs along the Hudson River the length of Hamilton Heights.Read the following
Interactive plan
Click on one room in order to see the pictures.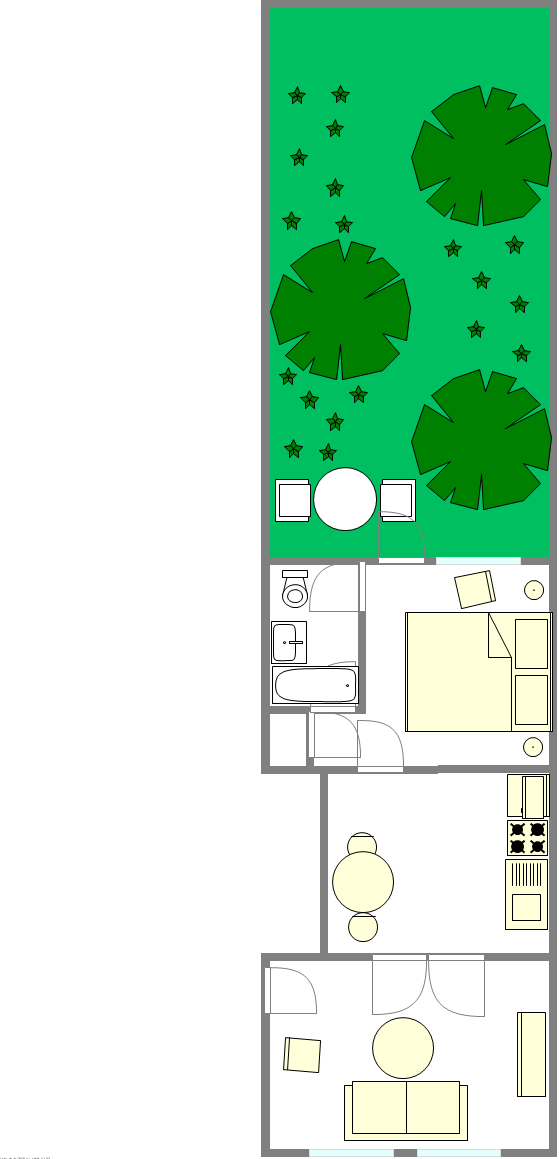 Building
Housing services
No smoking
Pets not accepted
TV
Intercom
This apartment is located on 142nd Street between Broadway and Hamilton Place. This One bedroom/ One bath Garden apartment has hardwood floors throughout the premises and is on the first floor of a townhouse.

The entrance door opens up into the living room which features a leather sofa, a fireplace, a table and two windows.

Two doors give access to the separate and fully equipped kitchen with a stove, an oven, a sink, a refrigerator with freezing compartment and a dining table with two chairs.

The bedroom in the back, features a Queen size bed, a chair, a large closet and two lamps. There is an access to the private garden where you can find a dining table and two chairs.

The fully tiled bathroom is accessible through the bedroom. It features a shower in tub, a sink, shelves with towels and a toilet and a window.

Transportation:

The A and D trains runs under St. Nicholas Avenue providing service at 145th Street. The C shares stations with the A, train services 135th, 145th, and 155th streets. The B shares stations with the D, train services 135th, 145th, and 155th streets. The MTA-New York City Transit bus lines M4 and M5 serve Broadway, M100 and M101 run on Amsterdam Avenue, M18 on Convent Avenue; M11 on 135th Street; Bx19 on 145th Street; Bx6 on 155th Street and the M3 on St. Nicholas Avenue.

Neighborhood :

Hamilton Heights is a neighborhood in the New York City borough of Manhattan. It lies between Morningside Heights to the south and Washington Heights to the north. It is the most westerly part of Harlem. . It contains the neighborhood of Sugar Hill.
Supermarket, pharmacy, bank, laundromat are near the appartement,
Also, Hamilton Heights is the home of City College of New York (CCNY), Dance Theatre of Harlem, The Harlem School of the Arts and Aaron Davis Hall.

The neighborhood offers several parks, including the recently built Riverbank State Park, embedded in Riverside Park which runs along the Hudson River the length of Hamilton Heights.
Neighbourhood

Station :

145 Street/Broadway

Nearby services
Supermarket
Availability
Price
| | |
| --- | --- |
| price / month | from 1 month |
| Available now | $2,875 |