1 bedroom furnished apartment with washing machine
(Upper West Side), 500 sqft, rental $3,375 /month
Address: West 105Th Street, New York (10025), near subway station: 103 Street/Central Park West (B,C)
Upper West Side
Floor area 500 sqf -
4th floor no elevator

103 Street/Central Park West



Available from 01-Jan-24
# 21210674
No agency fees until 01-Jan-70
Calculate your stay price
min 1 month

This is a fully one bedroom/one bathroom appartment located in the upper west side, next to central park.
The residence features a kitchen equipped with cabinetry and steel appliances, including dishwasher, a stove and a oven, a microwave and a refrigerator with a freezing compartiment.
The living room offers a single size bed, a dining table and a TV. Also, it has hardwood floors ant three windows overlooking the back.
The bedroom with wood floors provides a double bed a closet and an access to a dresser. The bathroom includes a shower in a tub, a sink and a toilet.

Transportation:
A, B and C trains run at 103St


Neighborhood (copy from wikipedia):
The Upper West Side is a neighborhood that lies between Central Park and the Hudson River . The Upper West Side is sometimes also considered by the real estate industry to include the neighborhood of Morningside Heights. The Upper West Side is an affluent, primarily residential area with many of its residents working in more commercial areas in Midtown and Lower Manhattan. It has the reputation of being home to New York City's cultural, intellectual hub (with Columbia University located at the north end of the neighborhood), and artistic workers (with Lincoln Center located at the south end).Read the following
Interactive plan
Click on one room in order to see the pictures.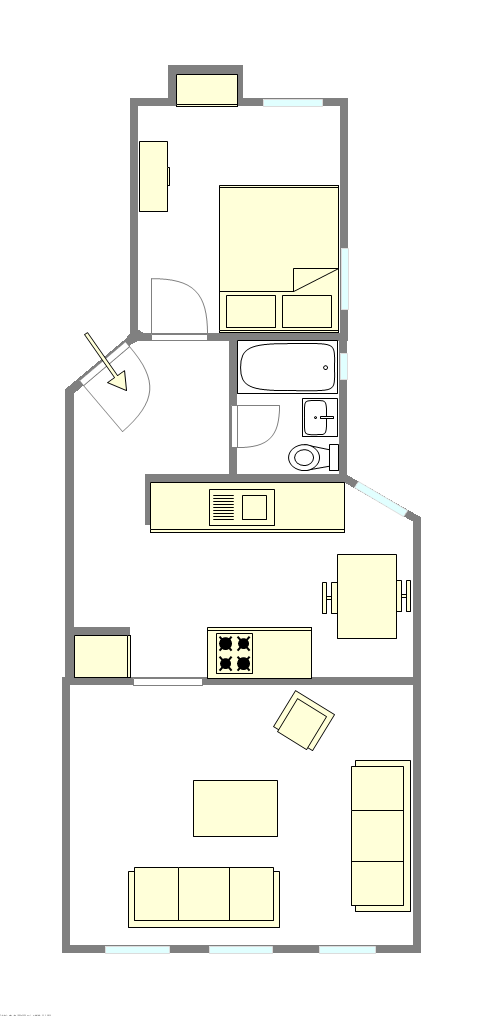 Building
Housing services
No smoking
Pets not accepted
Air conditioning
Internet included
Washing machine
Dishwasher
TV
Linen - Intercom
This is a fully one bedroom/one bathroom appartment located in the upper west side, next to central park.
The residence features a kitchen equipped with cabinetry and steel appliances, including dishwasher, a stove and a oven, a microwave and a refrigerator with a freezing compartiment.
The living room offers a single size bed, a dining table and a TV. Also, it has hardwood floors ant three windows overlooking the back.
The bedroom with wood floors provides a double bed a closet and an access to a dresser. The bathroom includes a shower in a tub, a sink and a toilet.

Transportation:
A, B and C trains run at 103St


Neighborhood (copy from wikipedia):
The Upper West Side is a neighborhood that lies between Central Park and the Hudson River . The Upper West Side is sometimes also considered by the real estate industry to include the neighborhood of Morningside Heights. The Upper West Side is an affluent, primarily residential area with many of its residents working in more commercial areas in Midtown and Lower Manhattan. It has the reputation of being home to New York City's cultural, intellectual hub (with Columbia University located at the north end of the neighborhood), and artistic workers (with Lincoln Center located at the south end).
Neighbourhood

Station :

103 Street/Central Park West


Nearby services
Supermarket - Park - pharmacy
Availability
Price
| | |
| --- | --- |
| price / month | from 1 month |
| Available from 01-Jan-24 | $3,375 |
reviews (2)





Clients' average rating : 4.5 / 5
Excellent (5 / 5)


Felipe L. (USA)

Very good (4 / 5)


Talita B. (Brasil)