1 bedroom furnished apartment
(Upper West Side), 500 sqft, rental $6,325 /month
Address: West 88Th Street, New York (10024), near subway station: 86 Street/Broadway (1)
Upper West Side
Floor area 500 sqf -
4th floor no elevator

86 Street/Broadway


Available now
# 21210940
No agency fees until 01-Jan-70
Calculate your stay price
min 1 month max 2 months

MINIMUM STAY 1 MONTH
THIS ONE BEDROOM APARTMENT IS LOCATED ON THE 4TH FLOOR, WALK-UP OF A HISTORIC TOWNHOUSE IN A RESIDENTIAL STREET OF THE UPPER WEST SIDE OF MANHATTAN IN NEW YORK CITY.

THE BUILDING FEATURES INTERCOM AT THE ENTRANCE FOR SECURITY AND A LAUNDRY ROOM IN THE BASEMENT, AVAILABLE TO ALL RESIDENTS.

THE ACCOMMODATION FEATURES 12 FEET CEILINGS, HARDWOOD FLOORS AND WIFI INTERNET ACCESS. LINENS ARE PROVIDED.
THE KITCHENETTE IS OPEN INTO THE LIVING ROOM AND IS EQUIPPED WITH NEW APPLIANCES AND ALL NECESSARY ITEMS TO COOK, INCLUDING MICROWAVE, TOASTER AND COFFEE MAKER. THE LIVING ROOM IS FURNISHED WITH A TWO KING SIZE SOFA BEDS, A DINING TABLE WITH STOOLS, A FLAT SCREEN TELEVISION WITH CABLE CHANNELS, CABLE MODEM AND DVD PLAYER. BEDROOM IS FURNISHED WITH A QUEEN SIZE BED, NIGHT TABLES AND DRESSER AND A WALK IN CLOSET. THERE IS A WINDOWS THAT FACES THE STREET.
THE BATHROOM IS EQUIPPED WITH TOILET, SINK AND FULL SIZE BATHTUB WITH SHOWER. TOWELS ARE PROVIDED.

THE UPPER WEST SIDE IS A RESIDENTIAL AND COMMERCIAL NEIGHBORHOOD OF MANHATTAN. IT IS FILLED WITH BEAUTIFUL HISTORIC HOUSES, LOTS OF SHOPS, RESTAURANTS, SUPERMARKETS, COFFEE SHOPS, BOUTIQUES AND FRESH FRUIT AND VEGETABLE MARKETS. A FEW STEPS AWAY FROM THIS APARTMENT THERE IS RIVERSIDE DRIVE WITH A LONG PROMENADE OF PARKS, BICYCLE AND JOGGING TRACKS ALONG THE HUDSON RIVER. SEVERAL AVENUES AWAY THERE IS ALSO CENTRAL PARK AND THE MUSEUM OF NATURAL HISTORY.
THE NEAREST SUBWAY STATION IS LOCATED AT WEST 86TH STREET AND BROADWAY.Read the following
Interactive plan
Click on one room in order to see the pictures.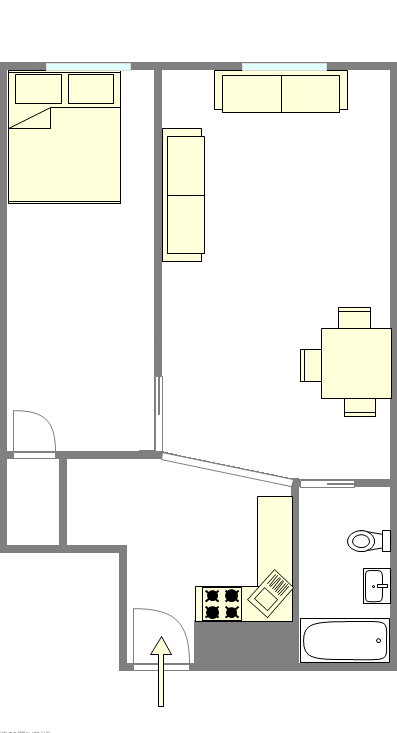 Building
Housing services
No smoking
Pets not accepted
Air conditioning
Internet included
Cable
TV
Laundromat in the building
MINIMUM STAY 1 MONTH
THIS ONE BEDROOM APARTMENT IS LOCATED ON THE 4TH FLOOR, WALK-UP OF A HISTORIC TOWNHOUSE IN A RESIDENTIAL STREET OF THE UPPER WEST SIDE OF MANHATTAN IN NEW YORK CITY.

THE BUILDING FEATURES INTERCOM AT THE ENTRANCE FOR SECURITY AND A LAUNDRY ROOM IN THE BASEMENT, AVAILABLE TO ALL RESIDENTS.

THE ACCOMMODATION FEATURES 12 FEET CEILINGS, HARDWOOD FLOORS AND WIFI INTERNET ACCESS. LINENS ARE PROVIDED.
THE KITCHENETTE IS OPEN INTO THE LIVING ROOM AND IS EQUIPPED WITH NEW APPLIANCES AND ALL NECESSARY ITEMS TO COOK, INCLUDING MICROWAVE, TOASTER AND COFFEE MAKER. THE LIVING ROOM IS FURNISHED WITH A TWO KING SIZE SOFA BEDS, A DINING TABLE WITH STOOLS, A FLAT SCREEN TELEVISION WITH CABLE CHANNELS, CABLE MODEM AND DVD PLAYER. BEDROOM IS FURNISHED WITH A QUEEN SIZE BED, NIGHT TABLES AND DRESSER AND A WALK IN CLOSET. THERE IS A WINDOWS THAT FACES THE STREET.
THE BATHROOM IS EQUIPPED WITH TOILET, SINK AND FULL SIZE BATHTUB WITH SHOWER. TOWELS ARE PROVIDED.

THE UPPER WEST SIDE IS A RESIDENTIAL AND COMMERCIAL NEIGHBORHOOD OF MANHATTAN. IT IS FILLED WITH BEAUTIFUL HISTORIC HOUSES, LOTS OF SHOPS, RESTAURANTS, SUPERMARKETS, COFFEE SHOPS, BOUTIQUES AND FRESH FRUIT AND VEGETABLE MARKETS. A FEW STEPS AWAY FROM THIS APARTMENT THERE IS RIVERSIDE DRIVE WITH A LONG PROMENADE OF PARKS, BICYCLE AND JOGGING TRACKS ALONG THE HUDSON RIVER. SEVERAL AVENUES AWAY THERE IS ALSO CENTRAL PARK AND THE MUSEUM OF NATURAL HISTORY.
THE NEAREST SUBWAY STATION IS LOCATED AT WEST 86TH STREET AND BROADWAY.

Neighbourhood

Station :

86 Street/Broadway

Nearby services
pharmacy - Restaurant
Availability
Price
| | |
| --- | --- |
| price / month | from 1 to 2 months |
| Available now | $6,325 |
Rental period
min 1 month max 2 months
reviews (1)





Clients' average rating : 3 / 5
Good (3 / 5)
WAs ok but very hot in September and air conditioning unit very noisy so could not keep on all night. The steps were ok but on occasions a bit much But fabulous location. Also the shower was pitiful and a few things were lacking such as a kettle and tea towels.

Mary O. (New Zealand)