1 bedroom furnished apartment with pets accepted and washing machine
(Upper West Side), 450 sqft, rental $5,865 /month
Prestigious rental: West 85Th Street, New York (10024), near subway station: 86 Street/Central Park West (B,C)
Upper West Side
Floor area 450 sqf -
4th floor no elevator

86 Street/Central Park West



Available now
# 2120057
No agency fees until 01-Jan-70
Calculate your stay price
min 1 month

MINIMUM STAY 1 MONTH
Located in a completely renovated landmark brownstone in the heart of the Upper West Side, steps from Central Park and many wonderful shops and restaurants, this bright, sunny high-end alcove studio/one bedroom apartment is 3 flights up facing a tree-lined street.

It boasts large windows with custom blinds, its own Washer Dryer, plenty of strorage including Elfa custom-designed closets and radiant heat under the hardwood floors.

The living area comes complete with a full-size leather sofa-bed, 2 leather ottomans/ coffee tables, a dresser and a l HD 1080p 37" TV ready for internet streaming (Netflix, You Tube, etc. ).

The bedroom is home to a contemporary, custom made Bamboo queen size bed, 2 dressers, a large closet and a brick wall.

The eat-in kitchen features, top of the line European custom made cabinets, granite counter tops and brand new Miele stainless steel appliances, including an integrated panel refrigerator, a microwave convection oven and a dishwasher under the sink. It is also fully stocked with all the basics you will need for day-to-day living: a toaster, coffee maker, and electric water kettle.

The European-tiled contemporary bathroom has a bathtub with hand held/over head shower in tub, extensive storage below and above the sink, and a toilet.

Additional amenities:
-Video Intercom and Security Cameras.
-Complimentary laundry in the building.
-Wired and WiFi High speed Internet access throughout the apartment.
-The living area and bedroom have their own separate remote-controlled AC units.
-Skype Ready IP Video Telephone for International Calls.


Between Amsterdam Avenue and Columbus Avenue, one block away from Line 1 and Line D subway stations for easy access to almost everywhere in Manhattan. Also, it is located one block away from Broadway upscale shopping district.

Easy access to Columbia University, New York Presbyterian, Barnard, The Jewish Theological Seminary, Manhattan School of Music, American Museum of Natural History, Fordham University, Lincoln Center and Metropolitan Opera

Neighborhood : The Upper West Side is a neighborhood of the borough of Manhattan in New York City that lies between Central Park and the Hudson River above West 59th Street and below West 125th Street. It encompasses the neighborhood of Morningside Heights.
Like the Upper East Side, the Upper West Side is primarily a residential and commercial area, with many of its residents working in more commercial areas in Midtown and Lower Manhattan. While these distinctions were never hard-and-fast rules, and now mean little, it has the reputation of being home to New York City's affluent cultural and artistic workers, in contrast to the Upper East Side, which is perceived to be traditionally home to affluent commercial and business types. The neighborhood is decidedly upscale with the median household income above the Manhattan average.Read the following
Interactive plan
Click on one room in order to see the pictures.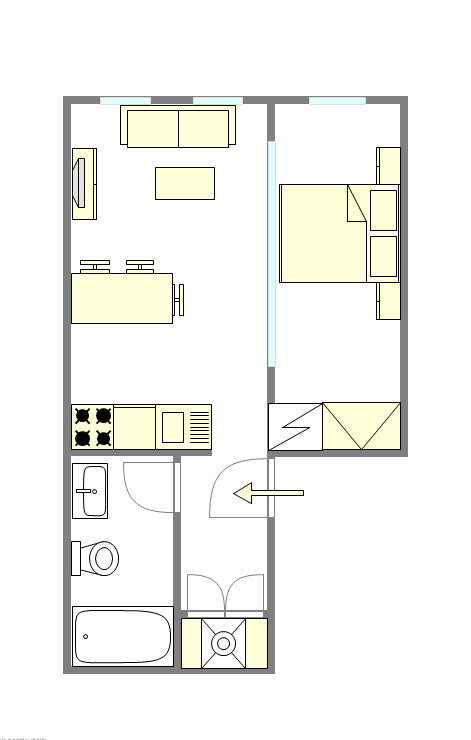 Building
Housing services
Apartment standing :





No smoking
Pets accepted
Air conditioning
Telephone line
Internet included
Cable
Washing machine
Dishwasher
TV
Linen - Intercom
Laundromat in the building
MINIMUM STAY 1 MONTH
Located in a completely renovated landmark brownstone in the heart of the Upper West Side, steps from Central Park and many wonderful shops and restaurants, this bright, sunny high-end alcove studio/one bedroom apartment is 3 flights up facing a tree-lined street.

It boasts large windows with custom blinds, its own Washer Dryer, plenty of strorage including Elfa custom-designed closets and radiant heat under the hardwood floors.

The living area comes complete with a full-size leather sofa-bed, 2 leather ottomans/ coffee tables, a dresser and a l HD 1080p 37" TV ready for internet streaming (Netflix, You Tube, etc. ).

The bedroom is home to a contemporary, custom made Bamboo queen size bed, 2 dressers, a large closet and a brick wall.

The eat-in kitchen features, top of the line European custom made cabinets, granite counter tops and brand new Miele stainless steel appliances, including an integrated panel refrigerator, a microwave convection oven and a dishwasher under the sink. It is also fully stocked with all the basics you will need for day-to-day living: a toaster, coffee maker, and electric water kettle.

The European-tiled contemporary bathroom has a bathtub with hand held/over head shower in tub, extensive storage below and above the sink, and a toilet.

Additional amenities:
-Video Intercom and Security Cameras.
-Complimentary laundry in the building.
-Wired and WiFi High speed Internet access throughout the apartment.
-The living area and bedroom have their own separate remote-controlled AC units.
-Skype Ready IP Video Telephone for International Calls.


Between Amsterdam Avenue and Columbus Avenue, one block away from Line 1 and Line D subway stations for easy access to almost everywhere in Manhattan. Also, it is located one block away from Broadway upscale shopping district.

Easy access to Columbia University, New York Presbyterian, Barnard, The Jewish Theological Seminary, Manhattan School of Music, American Museum of Natural History, Fordham University, Lincoln Center and Metropolitan Opera

Neighborhood : The Upper West Side is a neighborhood of the borough of Manhattan in New York City that lies between Central Park and the Hudson River above West 59th Street and below West 125th Street. It encompasses the neighborhood of Morningside Heights.
Like the Upper East Side, the Upper West Side is primarily a residential and commercial area, with many of its residents working in more commercial areas in Midtown and Lower Manhattan. While these distinctions were never hard-and-fast rules, and now mean little, it has the reputation of being home to New York City's affluent cultural and artistic workers, in contrast to the Upper East Side, which is perceived to be traditionally home to affluent commercial and business types. The neighborhood is decidedly upscale with the median household income above the Manhattan average.
Neighbourhood

Station :

86 Street/Central Park West


Nearby services
Supermarket - Park - pharmacy - Restaurant
Availability
Price
| | |
| --- | --- |
| price / month | from 1 month |
| Available now | $5,865 * |